Advanced Certified ScrumMaster (A-CSM)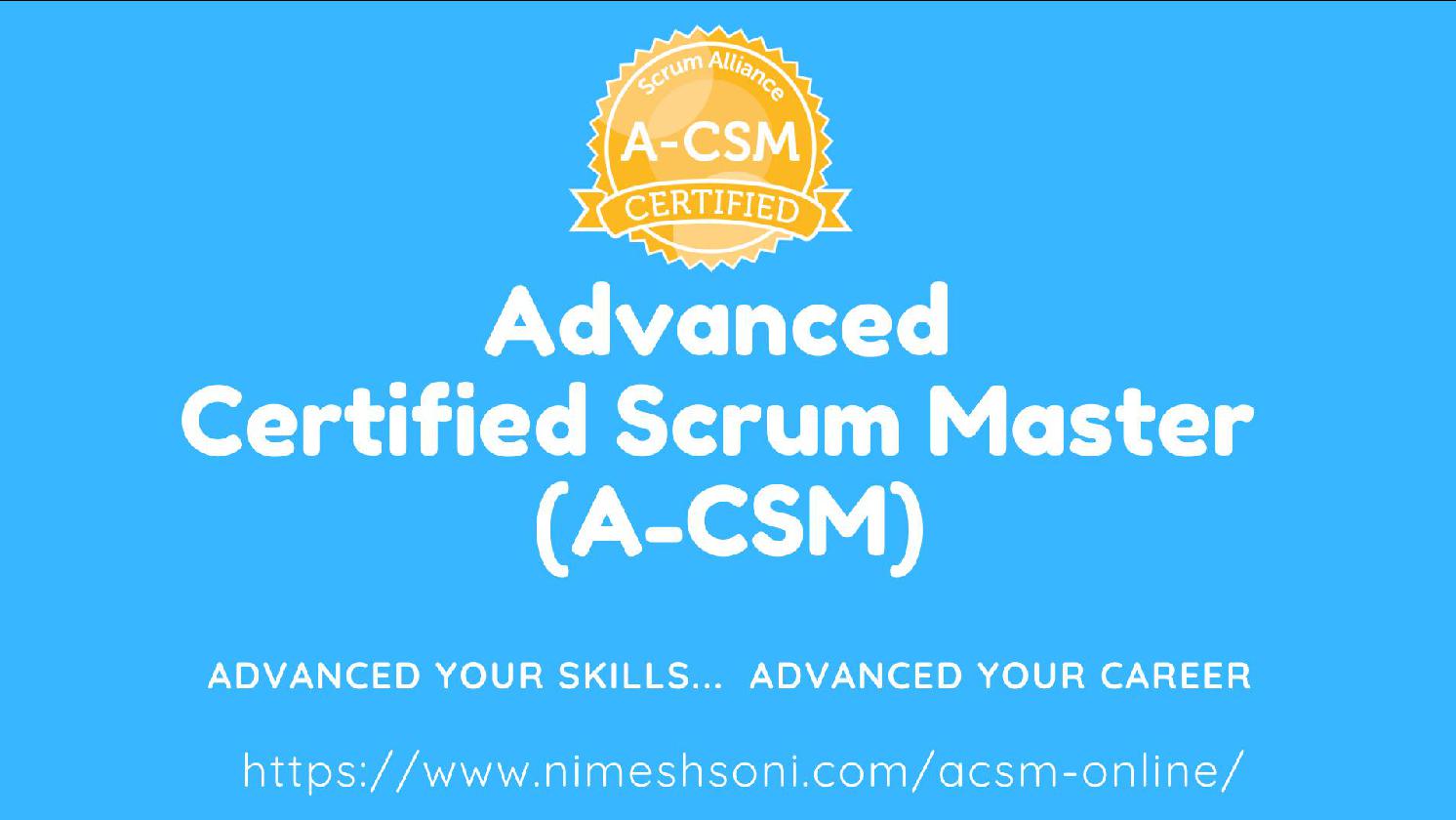 Image from agileyoda.samcart.com
From Sat 2 October 2021 to Sat 23 October 2021
From Saturday 2 October 2021 to Saturday 23 October 2021
Stand out from the crowd! Distinguish yourself as an experienced Scrum Master by achieving your Advanced - Certified ScrumMaster℠ (A-CSM) certification.
This program is for you if you said YES to:
I am a Scrum Master and have at least 1 year of experience in that role
I am not happy being just a mediocre scrum master
I want to grow my skills so I can advance my career
I want to learn new tools and techniques so I can be more effective in helping my organization in its Agile journey
Advance your skills, Advanced your career!
The Advanced Certified ScrumMaster™ (A-CSM™) course is part of the Scrum Alliances Path to Certified Scrum Professional® (CSP).
The A-CSM® is an in-depth immersion into the world of the ScrumMaster role. Unlike a traditional class, this is a coaching-based program, allowing personalized attention. This program is delivered in 'blended format' – online video calls, offline activities, and team activities. We also conduct Townhall style discussions to provide you ongoing support.
This program is loaded with activities and simulations. Between the live online sessions, you will be required to complete various worksheets and/or activities.
Yes, this is a certifying event. Completing this entire (4 sessions) program will lead to A-CSM certification.
Got questions? We are here to help you!
Summary of the program:
Four sessions, with each being 3 Hour session.
Join from anywhere in the world as each session is held online
Each session is facilitated and mentored by Scrum Alliance® Certified Enterprise Coach (CEC) with a focus on personalized attention to YOU.
Participants can expect 1 - 3 hours of offline work between sessions.
A Scrum Alliance Certified ScrumMaster℠ (CSM) certification is prerequisite to attending this program
In addition to completing this A-CSM program, you must also have one year of experience working as a ScrumMaster prior to obtaining the A-CSM credential, however, this experience may be gained before, during or after attending our program.
For more details, please visit http://www.nimeshsoni.com/acsm-online
Schedule:
Session 1: Oct 2
Session 2: Oct 9
Session 3: Oct 16
Session 4: Oct 23
Why you should join this workshop?
Smaller Groups - We limit the registration to a small number so that we can provide full attention to each and every participant.
You get full access to our tested and proven Scrum Master's Toolbox - filled with templates and worksheets.
FREE - 3 months of additional coaching and mentoring is also included as part of the registration for no extra charge.
Outline of the Agenda:
Session 1: Scrum Fundamentals, Scrum Events, Roles, and Conflict Resolution
Session 2: Facilitation, Self Organization, and Service to Team, Servant Leadership and Service to Product Owner
Session 3: Concept to Cash and Product Ownership, Advanced Engineering Practices
Session 4: Impediments, Change Management, and Scaling Scrum, Open Space, World Cafe, Lean Coffee, and Scrum Mastery
Certification:
To participate in this ACSM program, you must already hold the Certified ScrumMaster (CSM) credential with the Scrum Alliance. And, to qualify for the ACSM designation, you must attend this event, and also demonstrate 12 months of collective experience using agile methods.
Exam information:
There is no exam for Advanced CSM (A-CSM) certification. Completing this Advanced CSM program, and accepting the license agreement designates you as an Advanced Certified ScrumMaster.
Once you complete this A-CSM program, we will register your attendance and participation with Scrum Alliance, after which you will receive an email from them with your certification.
Instructor Bio:
Nimesh is a Coach, Mentor, Trainer, Author, and an Enterprise Transformation Consultant mentoring organizations in transition to value-driven approaches. He has been a key architect of transformation at various organizations including some of the Fortune 500 companies.
Being pragmatic, to drive transformation at an organization, he often mixes his agile expertise and common sense approach, making it visual with illustrations and drawing so that it creates lasting impact.
Nimesh is a Certified Enterprise Coach (CEC/CSC) and Path to CSP Educator.
You can also get pearls of his agile wisdom [on twitter] at @beyondCSM
All Advanced CSM courses are taught by Educators approved by the Scrum Alliance. Taking an Advanced CSM course, meeting the 7 learning objectives, and accepting the license agreement designates you as an Advanced Certified ScrumMaster.
// Path to CSP, Scrum Alliance, Online, Weekend workshop, Your Career, Certification, Advanced CSM, Scrum Master
13476626 Views - 15/09/2021 Last update
business
courses
workshop
Virtual event
610-590-4529
---
Are you an event organizer?
Create events for free. They will be immediately recommended to interested users.
Create event
---
---
---
---
610-590-4529
Event from
agileyoda.samcart.com
---
Are you an event organizer?
Create events for free. They will be immediately recommended to interested users.
Create event