Breathless Exposure Training Masterclass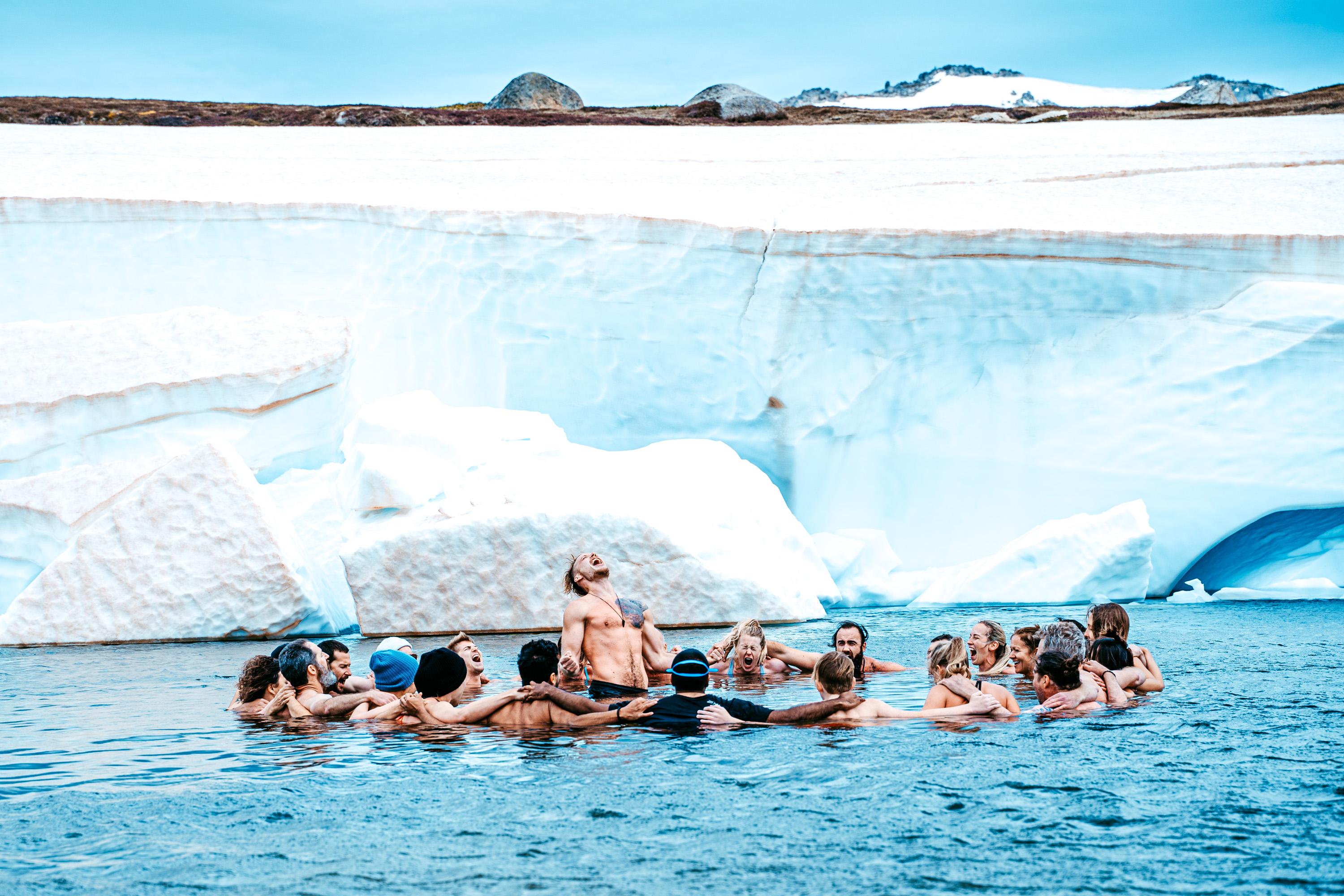 Image from eventbrite.com
---
"Combine the extremes

and you will have the true centre"

Karl Wilhelm Friedrich Schlegel

Embrace the heat, welcome the cold and experience the countless benefits of journeying from one extreme to the other as we guide you through this in depth, immersive course into how ancient exposure practices can help unlock your deepest potential.

WHAT IS EXPOSURE TRAINING?

The therapeutic use of thermal exposure dates back as far as historical records go. From hot springs to arctic plunges, sweat lodges and back again, there are countless rites of passage, rituals, ceremonies and healing practices that demonstrate the psychological and physiological benefits of seeking out extremes in nature. There seems to be an innate knowing within us, a longing, a need that pushes us to seek out the stress that extreme fluctuations in temperature brings as a way to grow and expand our potential.

The recent growth of interest in self engineered exposure practices stems from rapid changes in our lifestyle and a new relation to stress. For many, this opens up a fascinating discussion and the maze of information out there.

- Why & When cold or heat exposure?

- What are the best practices and protocols?

- What counts as too little and is there such a thing as too much?

- How do I bring these practices into my daily routines?

- What temperature or time ranges are ideal?

- How do I make and measure progression in a safe way?

In this virtual deep dive, we've compiled the relevant sources for you to deepen you understanding of human potential and either start or expand your existing practices.

Combining decades of scientific research, ancient teachings and expert advice from leaders in the field, this engaging, insightful and invigorating masterclass encompasses everything from Tibetan meditation techniques, Saudi royalty beauty rituals, NASA secrets for longevity and more, to take you on a journey of exposure, both inside and out.

''You must have your heart of FIRE and you brain on ICE''

WHAT IS IT GOOD FOR?

Exposure Therapies have been proven to:

- Increase longevity

- Reduce Morbidity and lower risk of all cause mortality

- Improve cardiovascular health

- Strengthen Immune function

- Combat depression and anxiety

- Improve your physical and mental performance

Whether you're looking to improve your recovery, manage your stress levels, reduce illness related symptoms or are just curious to find out how to make the most out of an existing Sauna or Ice- bath practice - this course is for you.

Other topics we'll explore will include:

Pain management, auto-immune conditions, mental health and depression, autonomic control, science of stress & diseases of adaptation.

Above all, this is an opportunity to discover how to work with your body, expand your potential and connect deeper to nature within and without.

You'll come away with the tools, training, and knowledge to incorporate into your daily practice and help you take back control of your physiology, wellbeing and overall happiness.

14:45 Registration

15:00 Introduction

15:15 Theory part 1 - The Cold

15:45 Practical part 1 - ICE

16:00 Theory part 2 - The Heat

16:45 Practical part 2 - BREATH

17:00 Q&A

17:30 Virtual ICE bath (Optional)

// This session will be recorded in HD and made available for participants exclusively. //

The science part

We'll discuss how our autonomic nervous systems work within today's modern world, the impact of inflammation, the science of stress and brown fat activation as well as looking at the scientific research behind exposure practices.

The practical session

Whilst the world was focused on reaching higher than ever before with moon landings and space shuttles, Free-diver Enzo Maiorca & his rival Jaqcues Mayol explored the inner worlds to dive deeper then any man before them, and we're breaking records at astonishing rates. The scientific world would take years to catch on to what they showed to be not only possible for humans, but essential skills for us to thrive.

ICE

Explore the edges of our physiology and learn tools to harness the bodies natural drive towards balance. Using nothing more then a bucket of ICE water we'll teach you to control your autonomic nervous system and control your heart-rate in any situation.

// After the session you're invited for a virtual Cold Water Immersion closing ceremony, be guided through an ICE bath protocol and put the tools straight to use. //

BREATH

Exposure therapies or 'thermal stress' also serve as an excellent training ground for building a more optimal stress response. Although it may seem at times that the stresses of life can sometimes take your breath away, here lie many opportunities to take back control over our minds and bodies.

We'll explore how to breath before, during and after Cold & Heat exposure and you'll take-away techniques and principles applicable to all stressful situations.

WHAT'S INCLUDED

- Unique slides and exclusive content

- Course handout

- A PDF overview of related methods and Cold Shower Challenge

- Access to video tutorials, guided breathing recordings and the Breathless resource library

- 5 Week exposure training program

WHAT YOU NEED TO BRING

- A bucket/bowl with ICE water

- HR monitor (Optional)

- Stable internet connection

- Zoom (Free)

- 25 KG ICE (Optional)

Saturday 30th MAY 2020, 03.00pm – 05.30pm

WHAT'S THE COST?

$89 for the full course & recording

// HD Course recording and content is available offline for those that can't join the live workshop. //

THE BREATHLESS TEAM

Johannes Egberts is a certified instructor, Oxygen Advantage trainer, XPT coach and free diver from the Netherlands. Having worked with and studied under many experts in the field of health and wellness including Wim Hof, Laird Hamilton and Patrick McKeown. Johannes now runs Breathless. A platform for education & expeditions.

With over five years of experience, research and insight into the related theory and practice of breathwork, he has guided thousands of people in his workshops, teaching, creating and working with the NRL NZ Warriors, Wim Hof, Prof. Marc Cohen, Ludovico Einaudi and David Goggins to mention but a few.
543 Views - 07/06/2020 Last update
roseberry st 15/28-34
your beautiful home, nsw, 2096, nsw, au
---
Are you an event organizer?
Create events for free. They will be immediately recommended to interested users.
Create event
Nearby hotels and apartments
your beautiful home, nsw, 2096, nsw, au
---
---
roseberry st 15/28-34
your beautiful home, nsw, 2096, nsw, au
Event from
eventbrite.com
---
---
Are you an event organizer?
Create events for free. They will be immediately recommended to interested users.
Create event