FINANCE for NON-FINANCIAL MANAGERS: using spreadsheet as an analytical tool
COVID-19: many events have been canceled or postponed, please check with the organizer the event status.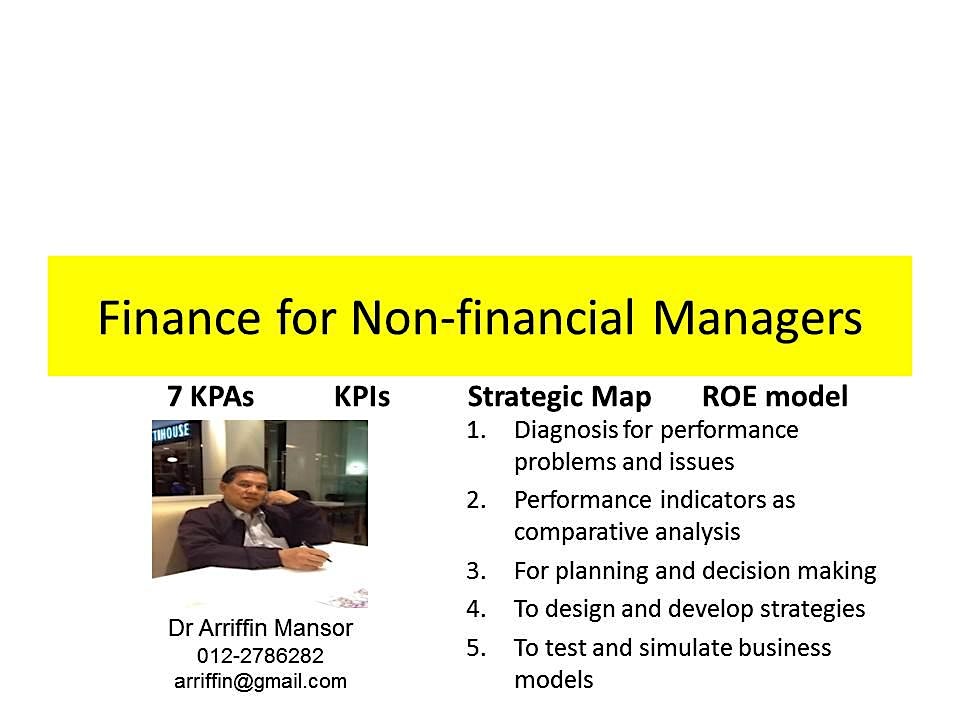 Image from eventbrite.com
From Wed 8 April 2020 to Thu 9 April 2020
From Wednesday 8 April 2020 to Thursday 9 April 2020
---
FINANCE FOR NON-FINANCIAL MANAGERS


TWO day intensive workshop assisted by excel templates and models
Financial diagnosis for problems identification


Financial indicators for comparative performance evaluation


Finance for decision making and planning purposes


Training Objective
At the end of the program, the participant shall acquire relevant knowledge and skills in finance to enable him to analyse, projecting and strategising.
Designed for anyone who wants to grow a successful career in managerial position. This course will teach you everything required including accounting, financial math, financial statement analysis, and business analysis.
Here are some more details of what you'll learn:
1. How to build a company's P&L from scratch and perform financial statement analysis
2. How to calculate Liquidity, Solvency, Profitability and Growth ratios to analyze a company's performance
3. The importance of timing of revenue and cost recognition
4. Understand what drives a company's stock value.
5. Cash flows and liquidity management
Gap Analysis
Benchmarking
using ratios as performance indicators
Strengths and weaknesses
Cost volume profit analysis
determine fixed and variable costs
Determine quantity sold
Determine the price sold
Make outsource decisions.
Working capital
estimate the right amount of working capital
Manage trading strategies
Manage stocks, debtors and creditors
Fixed Capital
Capacity planning
Leasing and rental
borrow to buy
Financial leverage
compute IRR and NPV
Financing the business
Balance between equity and loans
Calculate the costs of each source
Control vs tax deductible expenses
Cash Flow Projections
Project cash inflows and outflows
Appreciate the inportance of liquidity
Compute the IRR and NPV
Return on Equity Model
Understand corporate objective and goals
How to maximise return
Profit margin x asset turnover x Asset equity leverage.
Comprehensive diagnosis of the company.
Income statement
Balance Sheet
Purpose
To develop the knowledge concepts and techniques necessary to manage financial resources while at the same time using financial measures to measure the true performance of each activity area.


Targeted Groups
All excutives and managers, directors and entrepreneurs, teachers and students, borrowers and lenders
Benefits of this course
To enable participant to analyse and process financial data, makes decisions and produce reports for management purposes.
Learn financial strategies through simulations and deep root cause analysis through component ratios.
Take home excel templates and models
To apply the relevant financial strategies


Course methodology
Assisted by excel software

Case study by group discussion

Prepared templates and models

Simulations to demonstrate the impact of financial strategies
COURSE CONTENTS
Among others, the following topics shall be discussed.
Financial statement analysis and meaningful interpretation

Veritcal, horizontal and trend analysis

Cost volume profit analysis to determine the economic size of business

Working capital and trading strategies

Fixed capital and leverage

Sources and costs of funds: Financial structure

Cash flows : IRR and NPV

Return on Equity as the key goals in business

Key Performance indicators as performance measures
The teaching approach
Using ratio analysis to interpret the financial data
Using budget to plan and control activities
Controlling cash and liquidity as opposed to profitability
Applying financial strategies
Learning outcomes
Critically analyse and interpret financial statements

understand costs for planning and control purposes.

Ability to evaluate performance

Ability to use funds more efficiently and effectively.
Copyright
FAQs
Certificate of attendance issued to all participants
Snacks and drinks provided during breacks
Please bring your Notebook or laptop and financial calculator
Millenneum Square is near MRT Asia Jaya
Lots of Parking at basements
2957 Views - 11/04/2020 Last update
Excel College
No. 98 Jalan 14/1, Petaling Jaya, 46100, Selangor, Malaysia
---
Are you an event organizer?
Create events for free. They will be immediately recommended to interested users.
Create event
Nearby hotels and apartments
No. 98 Jalan 14/1, Petaling Jaya, 46100, Selangor, Malaysia
---
---
Excel College
No. 98 Jalan 14/1, Petaling Jaya, 46100, Selangor, Malaysia
Event from
eventbrite.com
---
---
Are you an event organizer?
Create events for free. They will be immediately recommended to interested users.
Create event
arriffin

›