Lift Your Team's Spirits: Fresh strategies to boost vibes in tough times
COVID-19: many events have been canceled or postponed, please check with the organizer the event status.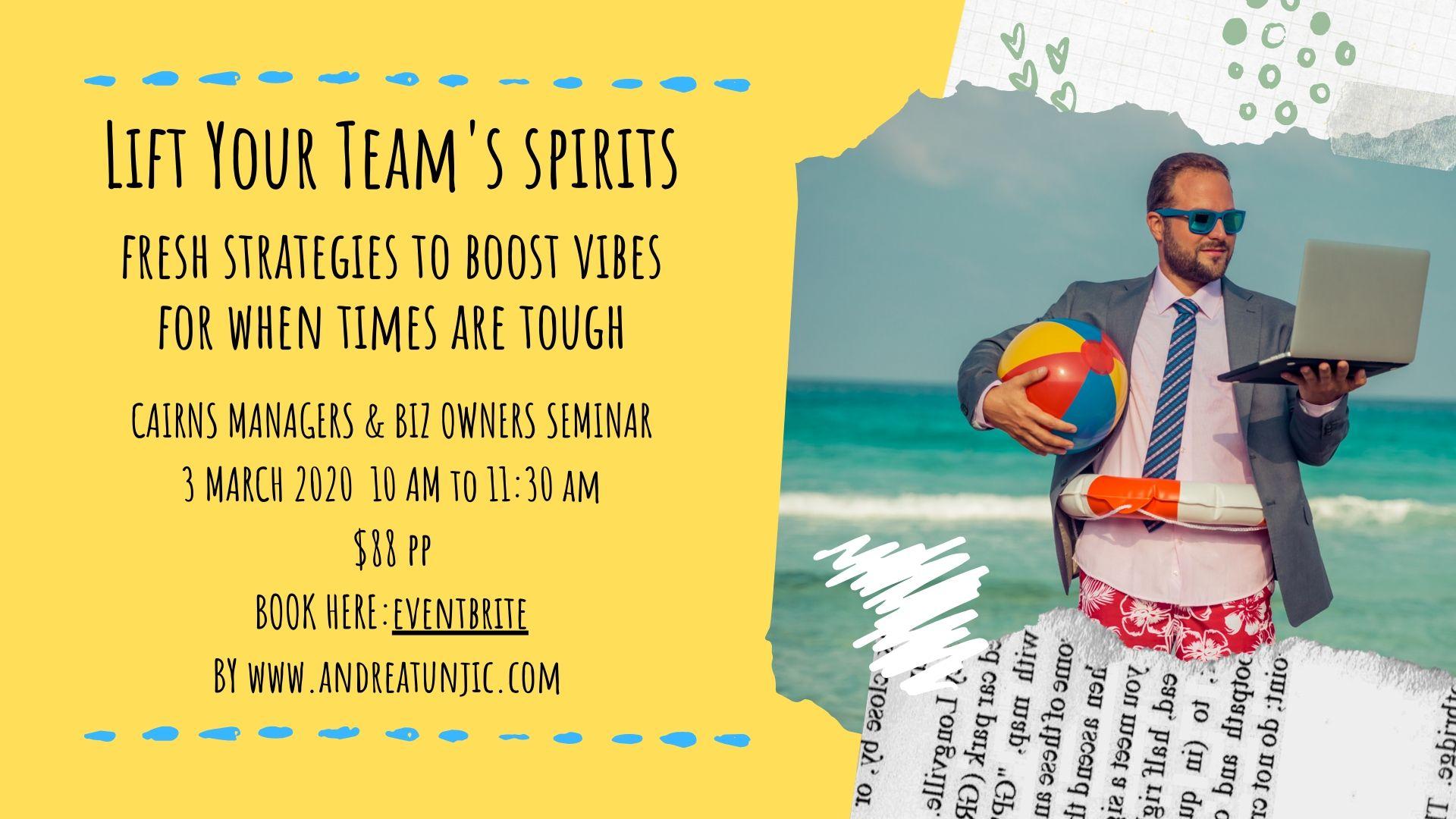 Image from eventbrite.com
---
LIFT YOUR TEAM'S SPIRITS: HAPPINESS HACKS FOR TOUGH TIMES
If you haven't already worked it out, the focus on mental and emotional wellbeing at work is growing and isn't that easy to manage.
You need a plan, a heap of soft skills and a rock-solid wellbeing mindset.
The workplace wellness space is moving quickly…it's easy to confused, overwhelmed or feel like you are stepping into dangerous legal territory.
The constant pressure to be on fire all the time personally and professionally are causing people to burn through their mental and physical reserves.
There's a growing cost to organisations from the "always-on" lifestyles we now lead:
86% of people have experienced anxiety due to work pressure in the last year. 87% have trouble switching off from work and 79% cite feelings of failure as a result. (Microsoft Sept 2019) And in May 2019 The World Health Organisation recognized burnout as an OHS phenomenon.
Jumping from crisis to crisis, just like the ones we are experiencing in our daily news cycle and the challenges that creates at work makes people feel overwhelmed and hopeless.
It takes a little work BUT there is a preventative approach to this growing problem. It's possible to avoid the negative mental health consequences by showing people how to control their own emotional wellbeing.
What I know from my nearly 30 years in people leadership is that that we all want to feel the positive and empowered shift of being able to say "I've got this" regardless of what's happening to us and around us.
I'm the first to admit that learning how to lift my own spirits was fundamental to me feeling energized, mentally healthy and successful through the ups and downs in my own businesses.
This 90 minute seminar covers:
7 key strategies you need to know about workplace wellbeing

Exactly what you should and should not be doing

The small things that can have a massive impact

Walk away with clear action steps to boost wellbeing
Implementing even one of these will give your team a boost.
If you want to make meaningful changes to alleviate stress, support emotional wellbeing in your workplace and help you and your team avoid the path to burn out, come along to this upcoming seminar.
P.S. You don't have to have a team to come along, solo-preneurs and all staff will benefit from these uplifting
strategies.

P.S.S. If you can't come but want the benefits, get in touch and I can deliver this workshop for just for you and your team.

Want to know more about us: www.andreatunjic.com
3344 Views - 21/03/2020 Last update
---
Are you an event organizer?
Create events for free. They will be immediately recommended to interested users.
Create event
---
---
Event from
eventbrite.com
---
---
Are you an event organizer?
Create events for free. They will be immediately recommended to interested users.
Create event
Cairns

›