Self Love Spa Retreat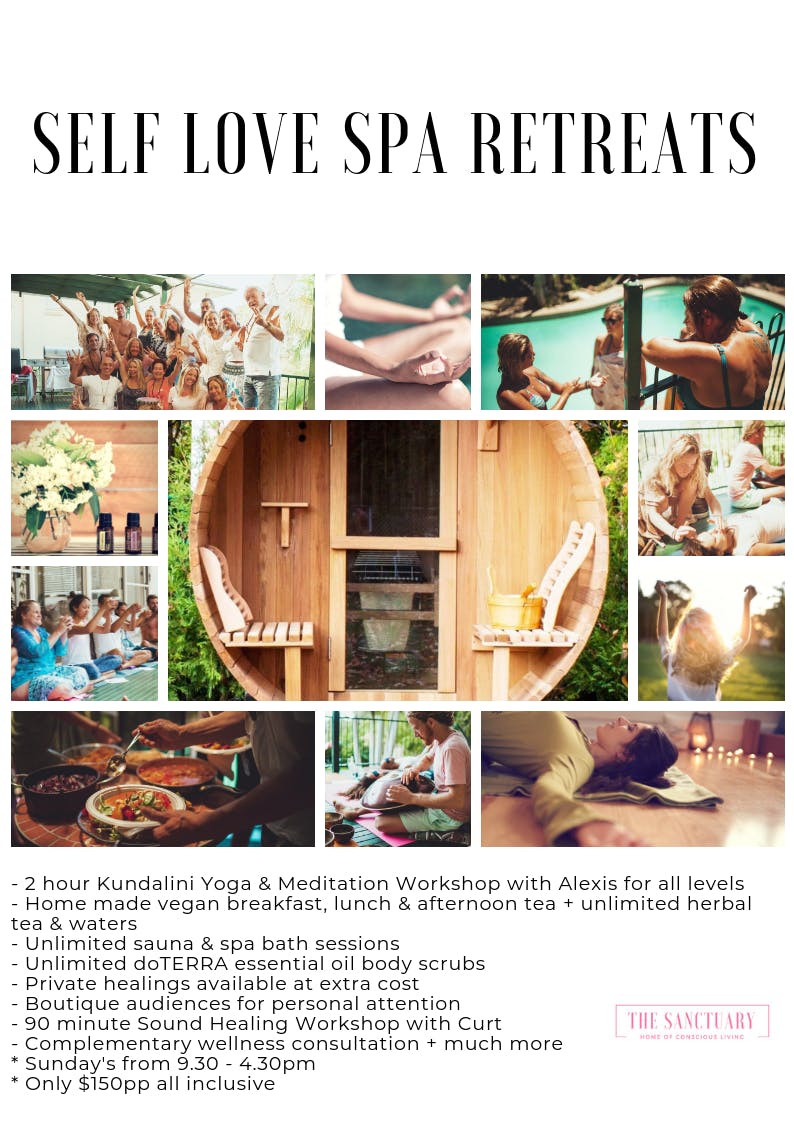 Image from eventbrite.com.au
---
The Sanctuary Sydney offers a sacred melting pot allowing you to surrender & connect to your inner being and finally pamper and re remember what it is to feel love, love for self and then to be able to share this energy effortlessly with the world.
This is not your typical yoga or meditation retreat, you will have freedom to do whatever you like whether that's laying in a hammock, detoxing in the sauna, giving yourself a full body essential oils scrub, feasting on home made organic food, meeting new friends and socialising or joining in our sound healing, yoga and meditation self love workshops.
Mixing the energy of The Aboriginal Woronora Valley with powerful intentions you will be gently led on a journey back to yourself, to your core, to remember what it is like to celebrate life, experience deep natural inner bliss, and release the blocks and negativity which may have been holding you back for so long.
HIGHLIGHT'S INCLUDE
• Self Love Workshops - Kundalini Yoga & Essential Oils • Heart Opening Meditation • Organic Fresh Home Cooked Food by personal Chef • Unlimited detoxing sauna sessions • Unlimited Spa Treatments & Body Scrubs • Private Property & Canadian Wood Barrel Sauna • Unlimited Flower/essential oil Spa Bath Sessions • Private optional sessions with practitioners for deeper transformation • Sleep on our love lounge • The complete freedom to do what you like *Unlimited herbal tea, filtered lemon water & essential oil infused sparkling water
+ A different Self Love theme each week, some examples include *Inner Connection *Radiance *Energy *Relaxation *Detoxing *Inner Peace *Elevation *High Vibration *Sensuality *Glow *Nutrition *Breath *Meditation *Immunity *Power *Focus *Confidence *Bliss *Relationships *Natural Beauty *Heart Connection *Grace *Connection To The Universe *Prosperity *Cleansing
Expand through Kundalini yoga and meditation workshop, connect and heal through heart meditation. Pamper yourself with delicious fresh organic home made meals, unlimited hours of sauna & spa bath with whole body scrubs for the ultimate self renewal. You will be amazed at how revived and alive you feel, and how gracefully centred and empowered you are when flowing naturally with life - open, radiant and free to express your divinity.
WHY DO PEOPLE ABSOLUTELY LOVE OUR SELF LOVE SPA RETREATS IN SYDNEY?
• Professional support and mentoring being led by experts in the field of spirituality, wellness and women's empowerment, practitioners who are globally recognised
• Small boutique retreats for personal customised support
• doTERRA therapeutic essential oils infused throughout the retreat to heal, reset and unleash your natural glow
• 8 hours in our privately owned Goddess Sanctuary – Stunning valley views and bird watching just 50 minutes from central Sydney
• Purify, reset and let go of all that emotional baggage to activate your love which is always inside
• Be held and supported by Founder of The Sanctuary Alexis Hannagan, and receive her personal self love workshop to connect back into your heart and feel love inside your heart
• 24/7 support: Throughout your retreat Alexis and our other practitioners will be on hand. Enjoy a personal 90-minute session with either Alexis or other wellness professioanls to release the blockages holding you back.
FOOD
Fresh, healthy and organic. An in-house chef is available on site preparing healthy homemade meals, plenty of variety for everyone to choose from. The kitchen caters for vegans and vegetarians, with no MSG or chemical enhancements used. doTERRA essential oils are also infused throughout.
THE RETREAT INCLUDES
• 8 hours of pampering and facilities use in our very own Sanctuary just 50 minutes from central Sydney
• Private rooms if you would like to lay down at all and rest on the beds
• Workshop from Alexis & Curt giving wisdom, rejuvenation, healing and transformation + most weeks we also have special guest collaborators join us too
• All yoga equipment including mats, bolsters, cushions, blocks & eye masks
• Plant based, vegan and local. The Sanctuary have their own vegetable patch where they source some of their organic food, the rest is from the local farmers markets. You will have the choice to select your own Self Love Nourish Bowl for lunch and vegan bliss ball + fresh fruit platters are available throughout
• Welcome drink – refreshing drink upon arrival
• Experience the ancient healing rituals of our ancestors with optional massages in our Spa room, rejuvenation and relaxation in complete peace & quiet. All the products are home-made and 100% natural.
• Access to personal sessions with Alexis and others
• Unlimited Wi-Fi internet access
• Unlimited purified spring water, freshly brewed coffee or tea and fruit plates & essentail oil infused sparkling water throughout
• Unlimited sauna sessions looking out onto the valley and unlimited doTERRA essential oil body scrubs
• Unlimited spa bath sessions infused with fresh flowers and essential oils
• Option to purchase extra self love goodies from out in house kitchen
SCHEDULE
(SUBJECT TO CHANGE)
09.30am-11.00am Kundalini Yoga & Meditation Workshop with Alexis (suitable for all levels of experience and fitness)
11:00am-12.30pm FREE TIME
12.30pm-01.30pm Lunch
01:30pm-02:15pm Guest presenter
02.30pm-04.00pm Drumming & Sound Healing Workshop with Curt
04.00am-05.00pm FREE TIME & CLOSING
DATES: Every Sunday from May 5th
FULL PRICE DROP IN
$160
OPEN & RADIANT MEMBERSHIP (10 SESSIONS) (our most popular)
$1,500
+ FREE doTERRA Essential Oil
+ FREE Private Session with Alexis or Curt
+ 2 x FREE Women's Gathering's
+ 2 x FREE Sound Healing Classes
+ 10% off private sessions
+ 10% off International Retreats!
We believe every woman deserves pampering, indulgence and extra surprises. Here are some little extras we snuck into your package, when you journey on the OPEN & RADIANT PASS so you are completely supported, held and nurtured like never before:
• Receive at home support for your entire journey via email from Alexis, so when things come up you are not alone, the support Is there
• Powerful take home tools taught on retreat for lasting transformation. Start your very own spiritual practice
• Receive your very own pamper pack (oily pouch), a special Sanctuary retreat wellness gift!

93 Views - 14/10/2019 Last update
The Sanctuary Sydney
7 Colubine Close Loftus , Sydney, 2232, NSW, Australia
---
Are you an event organizer?
Create events for free. They will be immediately recommended to interested users.
Create event
Nearby hotels and apartments
7 Colubine Close Loftus , Sydney, 2232, NSW, Australia
---
---
The Sanctuary Sydney
7 Colubine Close Loftus , Sydney, 2232, NSW, Australia
Event from
eventbrite.com.au
---
---
Are you an event organizer?
Create events for free. They will be immediately recommended to interested users.
Create event