The Meditation Australia Masterclass Series Sydney Sunday 13 October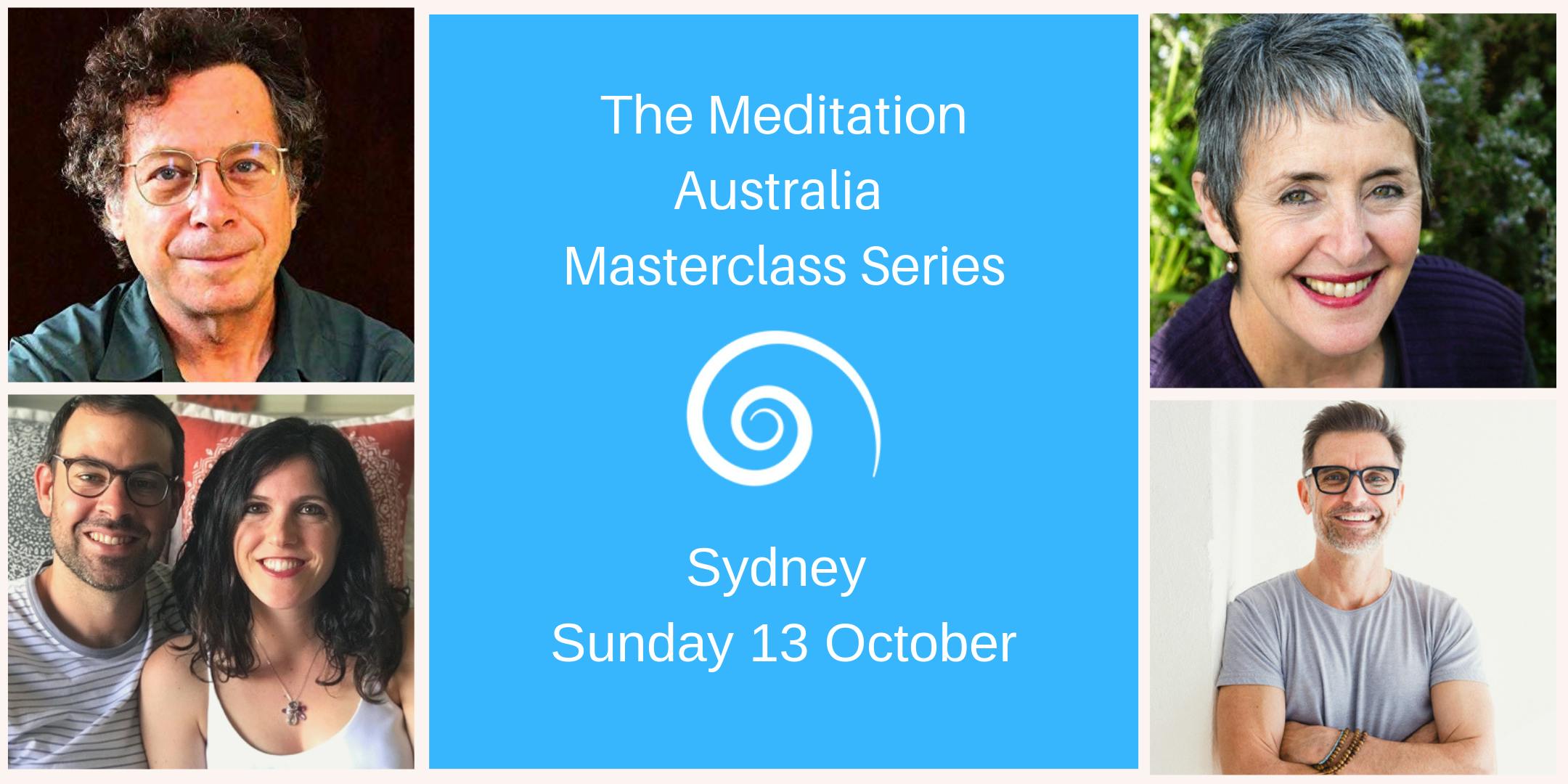 Image from eventbrite.com.au
---
The Meditation Australia Masterclass Series
Sydney
Sunday October 13

Join us at this one day professional development event, featuring five eminent meditation teachers. Our unique Masterclass program offers you an exciting full day of professional development – a morning of inspiring and educative addresses from all five of our presenters, followed by an afternoon immersion session of your choice with either Jason Siff or Janet Etty-Leal.
Morning presentations:
Jason Siff
Learning and Teaching a Receptive/Open Form of Meditation
Receptive forms of meditation include practices such as choiceless awareness, open awareness, 'just sitting', and 'doing nothing', as well as Jason Siff's creation, 'Recollective Awareness Meditation'. What Jason discovered is that the learning from one's meditative experience mostly takes place when the meditation sitting is recollected. The progressive teaching within an open awareness meditation practice is therefore based on the student's experience of meditation and tailored for each individual. Jason will instruct and guide on this way of learning and teaching meditation during his talk.

Janet Etty-Leal
Holistic, Heartful and Creative Mindful Discoveries for Children
Boundless opportunities exist to engage children as active interpreters of knowledge and meaning with mindful practices. There is potential for mindfulness to be so much more than attention training. A comprehensive approach to mindful education ignites personal inquiry, conscious choices and creativity, as self-agency is actively developed with children. Holistic, compassionate awareness for the self and ultimately others is fostered as children cultivate awareness: deepen reflection, understanding and befriend a range of practices.
There is so much scope to develop an authentic, creative toolkit of concepts, simple props and strategies to make mindful learning relevant and fun.

Nikki and Kevin Janks
Where Meditation meets Modern Lifestyles – the Role of the Meditation Studio
Nikki and Kevin Janks opened Sydney CBD meditation studio Centred Meditation four years ago, with the vision to make the benefits of meditation more accessible and to provide a refuge from the hustle and bustle of the city. Many media reports state that meditation and mindfulness is now a multi-billion dollar industry – what are the commercial realities? Learn from Nikki and Kevins' journey.
Rod Galbraith
Embracing the diversity of meditative experiences.
Motivated by a genuine desire to define the meditative experience, both meditation and yoga teachers often default to a biased focus of attention on either embodied, mental, or ethereal approaches. Rod will discuss the benefits of honouring the complementary and holistic nature of various practices as pathways to connection. He will outline a teaching perspective anchored in the yogic concept of koshas to effectively guide students in a practice that is encompassing and embracing of the diversity of meditative experience. Koshas – most commonly translated as "layers" – define five aspects of our being: from our gross experience (annamaya kosha) of our physical being through to the subtle layer of connection or "bliss" (anandmaya kosha). The physical layer is infused with the energetic layer (pranamaya kosha) and progressively more subtle layers of mind or thoughts (manomaya kosha), and intuitive emotion or wisdom (vijnanamaya kosha). The practice of meditation is an opportunity to harmonise these interrelated aspects of being, so we can connect more freely with our sense of self (Atma) or soul. Rod will discuss in practical terms how teachers can use the understanding of koshas to determine the relevance of various practices for different types of people and situations.

Afternoon Intensives (you choose which one to attend):
Jason Siff
The Basics of Recollective Awareness Meditation
· Meditation sitting using RA instructions
· Silent recollection after the sitting
· Writing about the sitting
· Talking about your meditation practice with a teacher
During the second half of this workshop, Jason Siff will discuss practical ways of facilitating an open meditation practice for oneself, one's students or clients, and meditation groups. He will also answer any questions or concerns that participants may have about Recollective Awareness Meditation.

Janet Etty-Leal
Ways to bring Mindfulness to Life for Children
A palette of creative possibilities can be developed by teachers. A comprehensive, sequential mindful curriculum addresses every learning style and personally connects to each child in the class. Practices become much more effective and compelling when presented with creative context and meaning. In this workshop we will explore mindful preparations for practices: a range of engaging, simple mindful movements, simple ways to make sense of basic neuroscience, as well as age- appropriate context, metaphors and teaching aids. Mind, heart and hands-on education is a foundation of kindness for children. It paves the way for discernment, resilience, a growing sense of purpose and a life-long journey of creative mindful discoveries.
Read more about our presenters:
Jason Siff was ordained as a Buddhist monk in Sri Lanka in the late 1980s, where he engaged in intensive meditation practice, and studied the teachings of the Buddha in the original Pali language. He left the Buddhist Order in 1990 and returned to California to study Counselling Psychology, earning a Master's Degree. In 1996 he co-founded the Skillful Meditation Project and began teaching meditation full-time. Since then, he has taught Recollective Awareness Meditation to thousands of people. He has taught workshops and retreats in Australia since 2005. He has published two books on meditation: "Unlearning Meditation" and "Thoughts Are Not the Enemy".
Janet Etty-Leal is an author, speaker and mindfulness educator. Her consultancy, Meditation Capsules, provides mindful life-skill programs for organisations in Victoria, interstate and overseas. She has worked across a diverse range of sectors; including education, health, corporate, sport and community wellbeing. Janet's key focus is bringing mindfulness to life in education, with heart, mind and hands-on practices! Her creative mindful meditation programs have enhanced curriculum for thousands of students from ELC to Year 12. Janet is Geelong Grammar's Mindfulness Consultant, a position she has held for more than 10 years. She facilitates staff training, parent information sessions and classes for students in government, private and special schools, and other educational organisations. Janet published 'Meditation Capsules: A Mindfulness Program for Children' in 2010. Studies based on this program have been undertaken by Masters/PhD candidates in universities in WA, SA, Victoria, New Zealand, Hong Kong, the US and Puerto Rico. In 2015, Janet developed Primary and Secondary Nature-Based Mindfulness curricula for 'Cool Australia'/ 'Planet Ark'. Janet's latest book: 'A Head-Heart Start for Life: Creative Mindful Discoveries for Young Children' was published in 2018. Janet is Secretary of the Board of the Meditation Association of Australia and is also a member of the 'Confluence' Committee within the University of Divinity, which aims to promote dialogue between meditation traditions.
Nikki and Kevin Janks are the co-founders of inner-city studio Centred Meditation. Their own journey to meditation arose out of a desperation to rid themselves of the detrimental effects of stress. Nikki experienced first hand the visceral effects of stress on her mind and body when she was studying psychology. Kevin's stress was fuelled by the intensity of his work. Having discovered and experienced the cumulative benefits of meditation, they have chosen to dedicate their lives to making this vital resource more accessible than ever before.
Rod Galbraith is a passionate teacher of meditation – his greatest love lies in sharing the wonder and delight of the subtle practices of yoga. He combines an intuitive blend of vinyasa yoga, pranayama and meditation techniques to offer an embodied practice of conscious connection. Rod skilfully teaches people how to let go of physical and mental tension, and effortlessly dive into deeply meditative states where life is brought into balance to create clarity, vibrancy and abundance. He has devoted himself to studying the subtle arts of yoga, and sharing this empowering knowledge with others. Drawing on his traditional studies with Sri Sri Ravi Shankar (Art of Living) and the synergistic approach of his current teachers Lorin Roche, Shiva Rea and Bryan Kest, Rod weaves knowledge of the deeper practices of yoga with experience from his own dedicated personal practice, artfully sharing this knowledge with yoga students and teachers alike, through classes, workshops and yoga teacher trainings. In 2014, Rod and his partner Nicole Walsh founded InYoga, an urban yoga sanctuary in Surry Hills. With a desire to expand awareness of yoga, share knowledge, and celebrate through yoga, music, and community, Rod is excited to be co-creating opportunities for yogis to connect and be inspired by one another. Rod and Nicole believe deeply in the benefits of Seva, or selfless service, establishing that all InYoga endeavours give generously to a chosen charity. Rod loves seeing his students transform their lives through yoga and meditation, just as he did.

Registration opens at 9.00am
Your ticket includes access to recordings of all four morning talks.
This event has a CPD value of 5 points.
• Please print this email ticket and present at the door.
(Colour or Black and White print is accepted).
• Keep this ticket in a safe place and safeguard it as you would money or regular tickets.
• This ticket is a Tax Invoice. The total price of this ticket includes GST.
• Audio or visual recordings are prohibited.
• You acknowledge that we will not be responsible for any loss or damage to your personal property (including money or other personal items) brought to or purchased at the event by you.
• We reserve the right to cancel or postpone the seminar, workshop or event for any reason.

105 Views - 14/10/2019 Last update
Rigpa Sydney, Tibetan Buddhist Meditation Centre
158 Australia Street, Newtown, 2042, NSW, Australia
---
Are you an event organizer?
Create events for free. They will be immediately recommended to interested users.
Create event
Nearby hotels and apartments
158 Australia Street, Newtown, 2042, NSW, Australia
---
---
Rigpa Sydney, Tibetan Buddhist Meditation Centre
158 Australia Street, Newtown, 2042, NSW, Australia
Event from
eventbrite.com.au
---
---
Are you an event organizer?
Create events for free. They will be immediately recommended to interested users.
Create event
Sydney

›