Melbourne Climathon 2018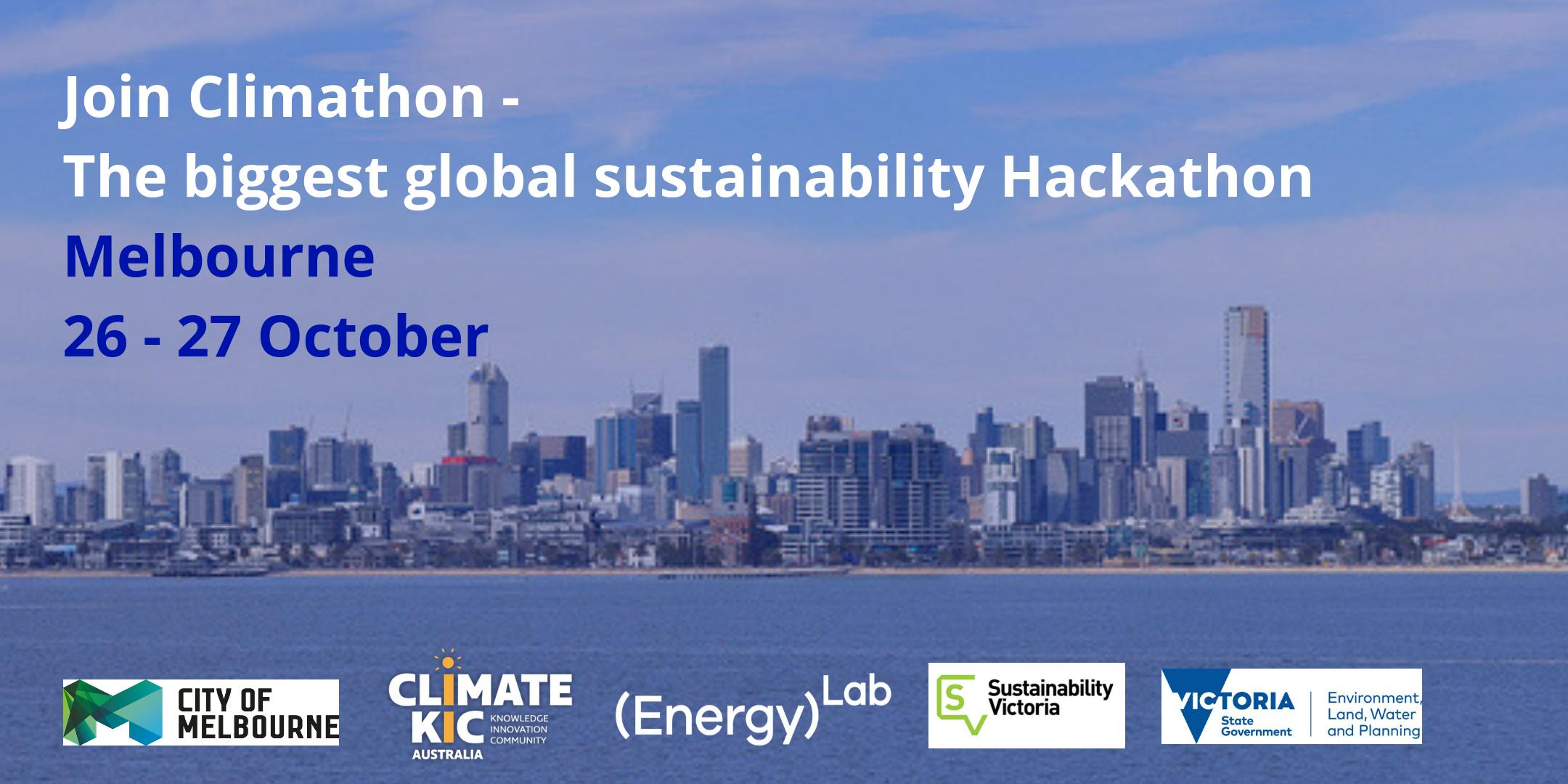 Image from eventbrite.com.au
From Fri 26 October 2018 to Sat 27 October 2018
From Friday 26 October 2018 to Saturday 27 October 2018
---
About Climathon
Melbourne joins over 100 cities worldwide in this 24-hour, 2-day hackathon, where teams compete in developing innovative solutions to their cities' major climate and sustainability challenges. Register now as a group or individual and find a solution to this year's challenge with like-minded entrepreneurs, students, researchers, sector professionals and innovators and get coached by local leaders from academia, business and government. Free to join, we will coach, feed and entertain you for two days. Spread the word and take part in Melbourne's sustainable and resilient future!
*Please note times - this year's Australian Climathons will take place over two days and participants are not expected to spend the night.
---
How it works
Inspiration: We'll kick off with a couple quick presentations about the waste issue in high density buildings in Melbourne.
Team forming: You can register as a team if you want, but if you're missing a team member or registering as an individual then we'll help you find teammates.
Ideation: Once teams are formed the brainstorming begins! Come up with a bunch of ideas and pick the one you want to work on for the rest of the hackathon. An Ideation workshop will help you with this.
Developing: We'll leave lots of time for you to develop your idea and prepare your presentation. You can also join a workshop on business modelling and pitch training to get you ready to present your idea.
Presenting: Each team will present to a panel of judges, who will pick the winning teams.
Celebrating: Unwind and celebrate what you've achieved in less than 24hrs over a drink and something to eat.
---
Your challenge to solve:
How can we reduce waste going to landfill from Melbourne's high density residential and commercial buildings?
Join the event and come up with ideas that reduce the waste to landfill from those living, working and operating businesses in high-density buildings in Melbourne.
High-density living and working creates a range of waste management challenges, such as:
high turnover/short term residents and staff, who lack a connection to what happens to their waste and may not know how to reduce and recycle their waste

a mix of commercial and residential users in the same building

limited space and lack of access to recycling or recovery systems

difficulty accessing central drop-off points for recycling or reuse
The waste cycle begins with generation, then collection and finally disposal. You can explore whether you can find business opportunities in avoiding the generation of waste through reuse and recycling ideas or by reducing purchases in the first place. you can consider solutions to retrofit the existing high-density waste management systems or offer ideas for future systems for new high-rise and high density buildings. Looking at the disposal of waste, there is still a large variety of areas to explore.
Waste streams to divert from landfill can include, but are not limited to:
Organic waste
Co-mingled recycling
Paper and cardboard
E-waste (electronic and electrical)
Hard rubbish
Reusable household items (such as clothes)
What business or system ideas can help to make it as easy as possible for residents, workers and businesses in high density buildings to minimise the amount of waste they generate and send their waste anywhere BUT landfill?

---
Why participate?
Are you an ideas person? Do you have a passion for the environment? Do you like to learn new things and meeting interesting people? Do you want to see Melbourne to produce less waste and become more sustainbale?
Also, you'll have opportunities to:
Come up with the next big idea for dealing with the waste crisis
Meet like-minded people
Win and accelerate your idea with the Climathon partners
Have fun!

---
Key Information
Where: University of Melbourne campus, Arts West Building, North Wing, Room 256, Parkville, VIC, 3052

When: 5:00pm - 10pm Friday 26th October and 8:45am - 6.30pm Saturday 27th October
Who: Students, entrepreneurs, designers, engineers, hackers, professionals, and anyone else interested in finding solutions to Melbourne's waste challenge. You can come along as an individual or as a team.
---
Frequently asks questions (FAQs)
How many people are allowed in a team? Teams must contain 3-4 people. Individuals can't compete but we will help you find at least one other person to form a team with (see below).
I already have teammates, can I just participate with them? Yes! But you need to be 3-4 people, you can also invite others along on the day.
I already have an idea, can I bring it to the event? Yes, we will give you the opportunity to tell others about your idea on Friday night and people can then join you to form a team.

Can I still participate if I don't have an idea? Of course! You will join a team and together you'll come up with some great ideas!
I don't know anyone else attending, how will I form a team? We have your back! We have built in a number of ways for you to meet other people in the same boat and will help you form a team with people you want to spend Friday and Saturday with. Friday night will start off with some casual networking over drinks and we will help everyone with the team formation.
---


I have another question, who can I talk to?
Send an email to Riley McAuliffe riley@energylab.org.au or Climate-KIC Australia info@climate-kic.org.au
images: Caz/flickr/melbourne Skyline, RaymindClarkeimages/Flickr/Between Us Neighbors, and Alan Levin/Flickr/King of the Trash Hill
79 Views - 28/10/2018 Last update
business
courses
collecting
workshop
art
nightlife
sports
Arts West Building, University of Melbourne Campus
North Wing, Room 256, Parkville, 3052, VIC, Australia
---
Are you an event organizer?
Create events for free. They will be immediately recommended to interested users.
Create event
Nearby hotels and apartments
North Wing, Room 256, Parkville, 3052, VIC, Australia
---
---
Arts West Building, University of Melbourne Campus
North Wing, Room 256, Parkville, 3052, VIC, Australia
Event from
eventbrite.com.au
---
---
Are you an event organizer?
Create events for free. They will be immediately recommended to interested users.
Create event