Mindfulness for Staff and Student Wellbeing | 3 Hour Training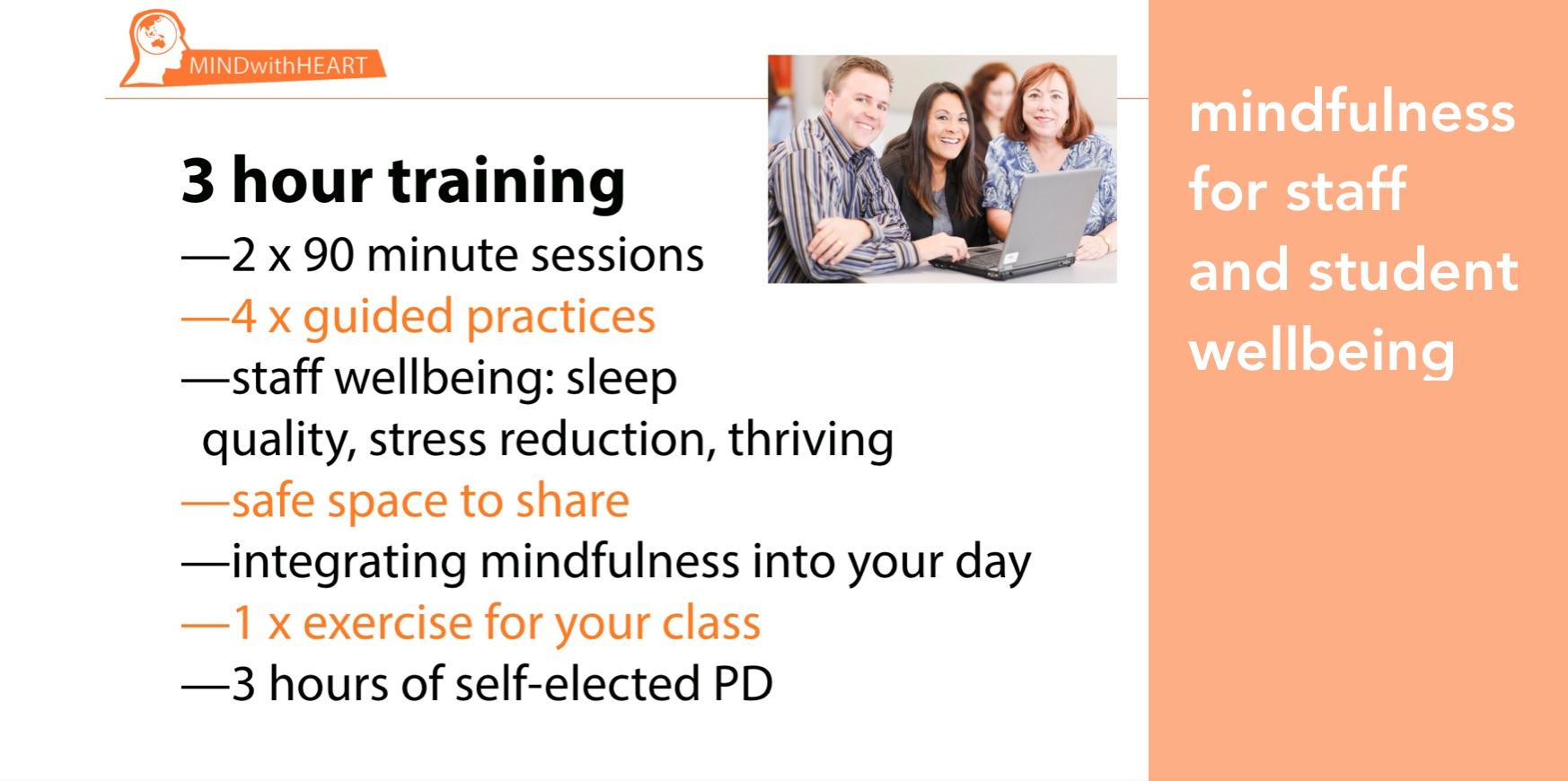 Image from eventbrite.com
From Tue 25 February 2020 to Wed 26 February 2020
From Tuesday 25 February 2020 to Wednesday 26 February 2020
---
In this 3-hour training, we'll explore:
—what is mindfulness and how does it fit within the Australian curriculum?
—how mindfulness helps us cultivate wellbeing, self-care and resilience
—research into mindfulness as a tool to transform stress, reduce burnout and improve sleep quality
—how and when we can each individually practise mindfulness
—how to integrate mindfulness into daily life
—how we can start to share mindfulness with students
This is an opportunity for practice, self-reflection, friendly dialogue with understanding peers and professional development. There will also be plenty of time to ask questions or discuss our obstacles to practising mindfulness.
Who will lead the training?
It will be led by Mind With Heart's senior Australian trainer Lyndi Smith. Lyndi has 12 years experience practising and 7 years experience in teaching mindfulness.
Will I learn about mindfulness for student wellbeing?
Yes! We'll share a practice that is simple but really effective in the classroom. However, successfully teaching mindfulness depends upon your own understanding and practice of mindfulness. It sounds simple, but actually there is a lot to learn and embody in order to teach it effectively, just like teaching tennis or music. So we'll focus on you first, and then how you can share with students.
Who can attend?
This training is open to any school staff, educators, youth workers, counsellors or anyone working with young people.
Is this programme evidence-based?
Yes! We've had feedback and testimonials from over 500 school staff and this programme was recently the subject of two research papers:
Effects of a Mindfulness-Based Program for Teachers on Teacher Wellbeing and Person-Centered Teaching Practices (Hwang et al, 2019)
Mindfulness-Based Intervention for Educators: Effects of a School-Based Cluster Randomized Controlled Study (Hwang et al, 2019)
Does this course count towards hours of professional development?
Yes, the course counts for 3-hours of teacher-identified professional learning.
How much does it cost?
Ticket prices are below.
Mind With Heart are a registered charity and aim to keep the price of courses affordable for all. Please get in touch if you would like to come and this cost is an obstacle.
SCHEDULE
Tuesday 25th Feb, 3:30pm until 5pm.
Wednesday 26th Feb, 3:30am until 5pm.
What if I can't make a session?
We'll record each session and send it to everyone registered, so you can watch and practise later, at a date and time that suits you.
TESTIMONIALS from previous participants
"Now I sleep much better at night and I'm less distracted and irritable during the day."
"I know how to work with my emotions so that I don't escalate situations."
"I can feel increased focus and clarity — it helps to relax and step away from the day's worries, making them feel less overwhelming and pressing."
FAQs
Do I need to bring anything along?
Participants can practise simply sitting on your chair, but please bring a yoga mat or cushion if you prefer to sit or lie on the floor.
How does an online training work?
We use the online platform Zoom, which is free for you to use. You will be sent the joining instructions a few days before the call. Simply follow the instructions in that email, and come online a few minutes before the training begins. You will be able to see everyone on your screen and interact. We'll practise mindfulness sitting down, so you can stay at your desk on your computer if you wish. You can also join from your phone by downloading the Zoom app.
How can I contact the organiser with any questions?
Contact Lyndi Smith on 0435 626154 or lyndi.smith@mindwithheart.org.
How do I access Zoom, the online platform?
We will email you with the joining instructions closer to the time.
If you wish, you can download and install Zoom before this: https://zoom.us/support/download
It's a very small, speedy download.
Zoom is also available an an app for iPhone or Android.
2035 Views - 27/02/2020 Last update
via zoom brisbane timezone
online, aest, au
---
Are you an event organizer?
Create events for free. They will be immediately recommended to interested users.
Create event
Nearby hotels and apartments
online, aest, au
---
---
via zoom brisbane timezone
online, aest, au
Event from
eventbrite.com
---
---
Are you an event organizer?
Create events for free. They will be immediately recommended to interested users.
Create event
Brisbane

›