the Motherhood Gathering (Mums + Bubs 0-12 months old)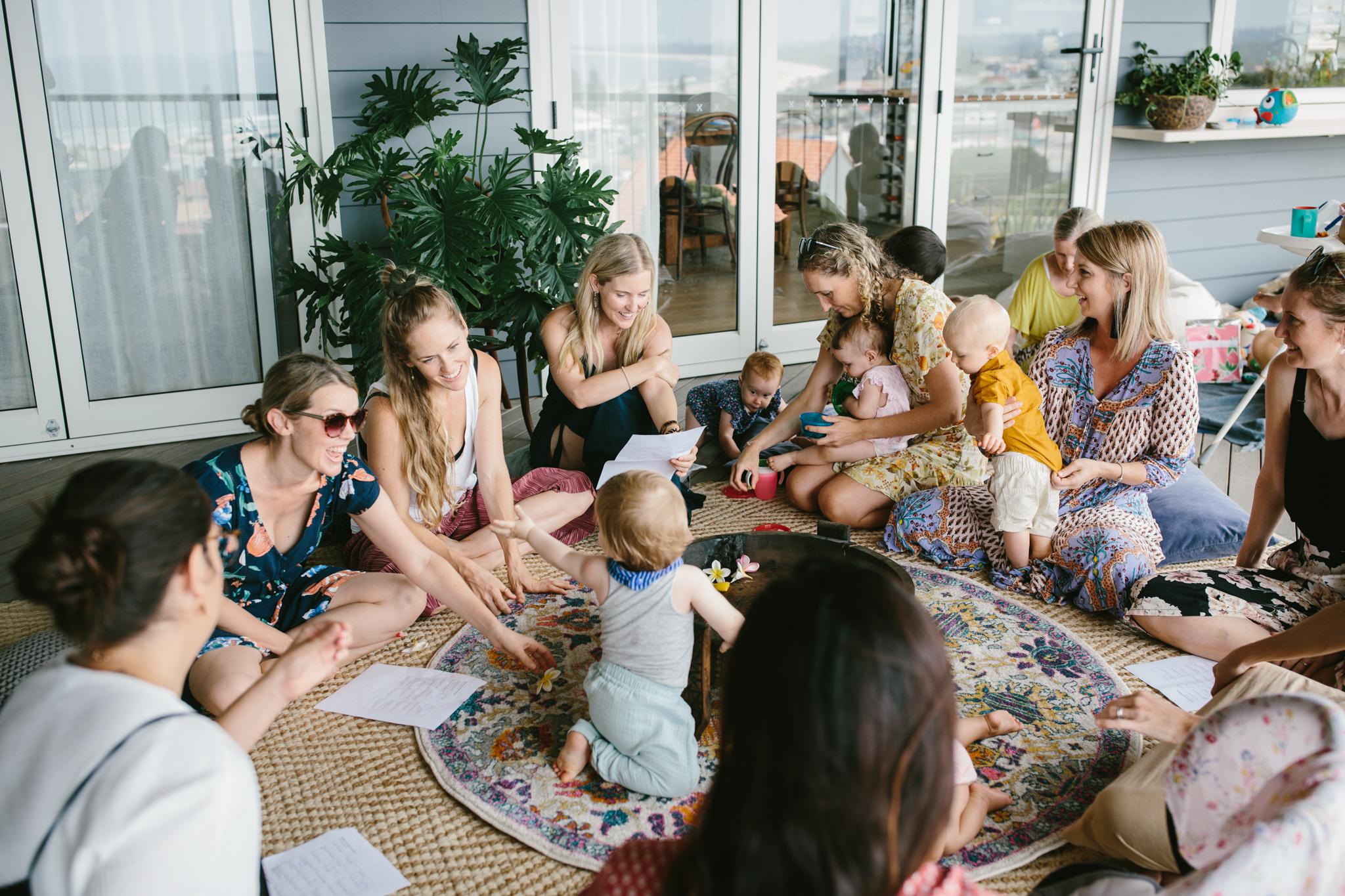 Image from eventbrite.com
From Fri 19 June 2020 to Fri 7 August 2020
From Friday 19 June 2020 to Friday 7 August 2020
---
*FACE TO FACE IN CURRUMBIN*
We spend so much time preparing the nursery, getting ready for the ideal birth, reading about how to care for the baby and trying to imagine what it will be like to be a mother. But little can prepare us for our transition into motherhood.
These sessions are an alternative and complement to the traditional mothers' group. The focus of this group is 100% on the mother's journey - not on the baby or how to be a mother. For more information see our website: www.themotherhoodgathering.com.
The purpose of this 8-week program is to support, connect and empower mothers on their motherhood journey.
Dr Daniel Stern, a Psychiatrist, has shown that "becoming a mother is an identity shift, and one of the most significant physical and psychological changes a woman will ever experience".
The group will be an intimate, supportive gathering of mothers who want to empower themselves with knowledge and tools to enter this next stage of their lives with greater ease. We will cover topics such as the motherhood transition, the good enough vs perfect mother, postnatal depletion, self-care and emotional resilience. Although there will be some structure, the majority of each session will be a facilitated group exploration where we can share openly in a safe environment.
=======================================
The ticket price includes:
8 x 90-minute sessions
An online learning journey for deeper dive on topics
A private virtual group with incredible mothers for ongoing support, resources and connection.
Every Friday starting 19 June - 8 August from 11 am - 12:30 pm
***Note: it is intended that this program be face-to-face and current advice states this date will be fine. However the safety and wellbeing of all is the priority. Therefore, if needed, we will make the program virtual until we can be together face-to-face.
========================================
FAQs
Do I bring my baby?
We welcome your baby with open arms! If you'd prefer to come alone, that is totally fine and up to you!
I am a second/third/fourth/other time mother, can I still come along?
We welcome ALL mothers who have a baby 0-12 months. Sure, you may be more seasoned, but you still need support and nurturing. And your wisdom will be gratefully received. The venue is not suitable for toddlers, sorry!

What should I bring into the event?
Please bring all the paraphernalia that is typically required with leaving the house with a baby ;)
Do I have to bring my printed ticket to the event?
No.
Can I buy single session tickets rather than pay for all six?
In order to create a connected group, we are only taking bookings for the whole program. You are often more likely to prioritise yourself if you have paid in advance :)
What if I cannot attend one or more dates?
If you know you cannot attend one date, that is fine, just let the organiser know. It is ideal to be able to participate in at least five weeks to get the full benefit. But, as mothers, we understand that sometimes the day can go pear-shaped! Just send Belinda a text message 0403970545 if you cannot attend and she will pass on any missed material to you.
Is my registration fee or ticket transferrable?
Yes as long as it is for a mother with a baby 0-12 months.
I am not going to be my ideal self, is that a problem?
We know that you will be tired. Sometimes you may not even remember your name. That is fine. We expect you to be tired, occasionally grumpy, sometimes overwhelmed, maybe anxious, sometimes joyful, sometimes nailing it, other times not. This space is for you in any mood or physical state. We encourage you to come along, even if you haven't showered or brushed your teeth. You won't regret it. (if you are so exhausted and getting here could be dangerous, of course, use your judgment and message Belinda 0403970545 to cancel).
What is the format?
This is a purposeful gathering to nurture mothers and provide a space to learn and explore motherhood. There will be some self-reflection and information, but it will be facilitated in a way that is very conscious of where you are at. We often start in a restorative position and do a guided meditation. Then we go into a group discussion about motherhood. We will explore different topics where you can learn some new skills and gain information that will help you transition with greater ease. The intent is to create a nurturing space for you and help ease your transition into motherhood.
Can I bring a friend or family member with me?
As this will be a special place for mothers to explore motherhood, we would prefer it just be mothers and their babies. If you have a special request for a support member to join, please message the organiser.
Can I ask questions about breastfeeding, sleeping etc.?
You can ask those questions of your fellow mothers at the end of the session. The purpose of our gathering is to 100% focus on you, for once! Please note: Belinda loves babies but is not an expert in babies.
What if I need to leave early? Or arrive late?
If you arrive late, you can join us where we are at in the group discussion. And if you need to leave early, please do so. Please be mindful of the other mothers when you join and go.
I have a baby or child older than 12 months, but I would still love to be there. Can I attend?
For older babies and children, we intend on supporting you in the future as well, so please watch this space.
3508 Views - 08/08/2020 Last update
gold coast hwy 570
the body method cornerstone, qld, 4224, qld, au
---
Are you an event organizer?
Create events for free. They will be immediately recommended to interested users.
Create event
Nearby hotels and apartments
the body method cornerstone, qld, 4224, qld, au
---
---
gold coast hwy 570
the body method cornerstone, qld, 4224, qld, au
Event from
eventbrite.com
---
---
Are you an event organizer?
Create events for free. They will be immediately recommended to interested users.
Create event