Pack with Salvation Army
Friday 19 July 2019 9:00 AM Friday 19 July 2019 12:00 PM
Save
Saved
Last update 20/07/2019
2684
Share your love and help the less fortunate this holidays!

LOOKING FOR YOUTHS AGED 21-28 YEARS OLD
The last event we have for the holidays is Pack with Salvation Army!!
I'm sure people are familiar with Salvation Army, the red tin bucket that raise funds for the less fortunate during Christmas and donors can ring the bell after that. But do y'all know how they function and what they do with donated items by the public??
Join us on this day to lend our helping hands to tidy their inventory which will fasten the process of giving the donated items to the right population.
Appreciation lunch and $10 GRAB code will be provided after the event!!
Do sign up in the link below https://forms.gle/EC9FMizKxy47Vu9W8 and share with all your friends!!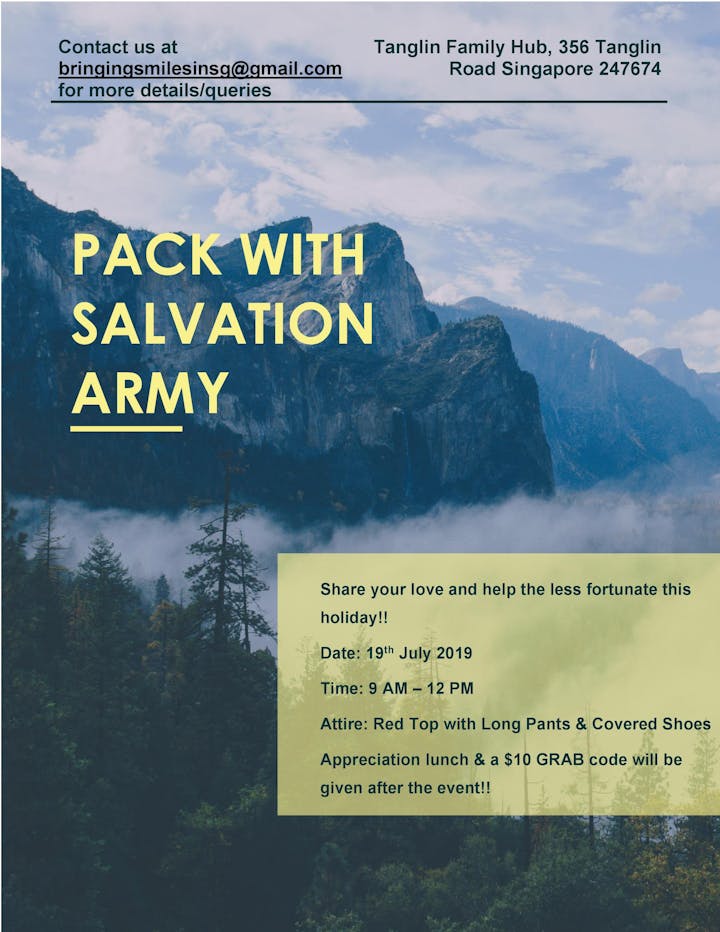 Nearby hotels and apartments
The Salvation Army
356 Tanglin Road, Singapore, Singapore
356 Tanglin Road, Singapore, Singapore
Event from
eventbrite.sg