The Presenters' Experience - Sydney
COVID-19: many events have been canceled or postponed, please check with the organizer the event status.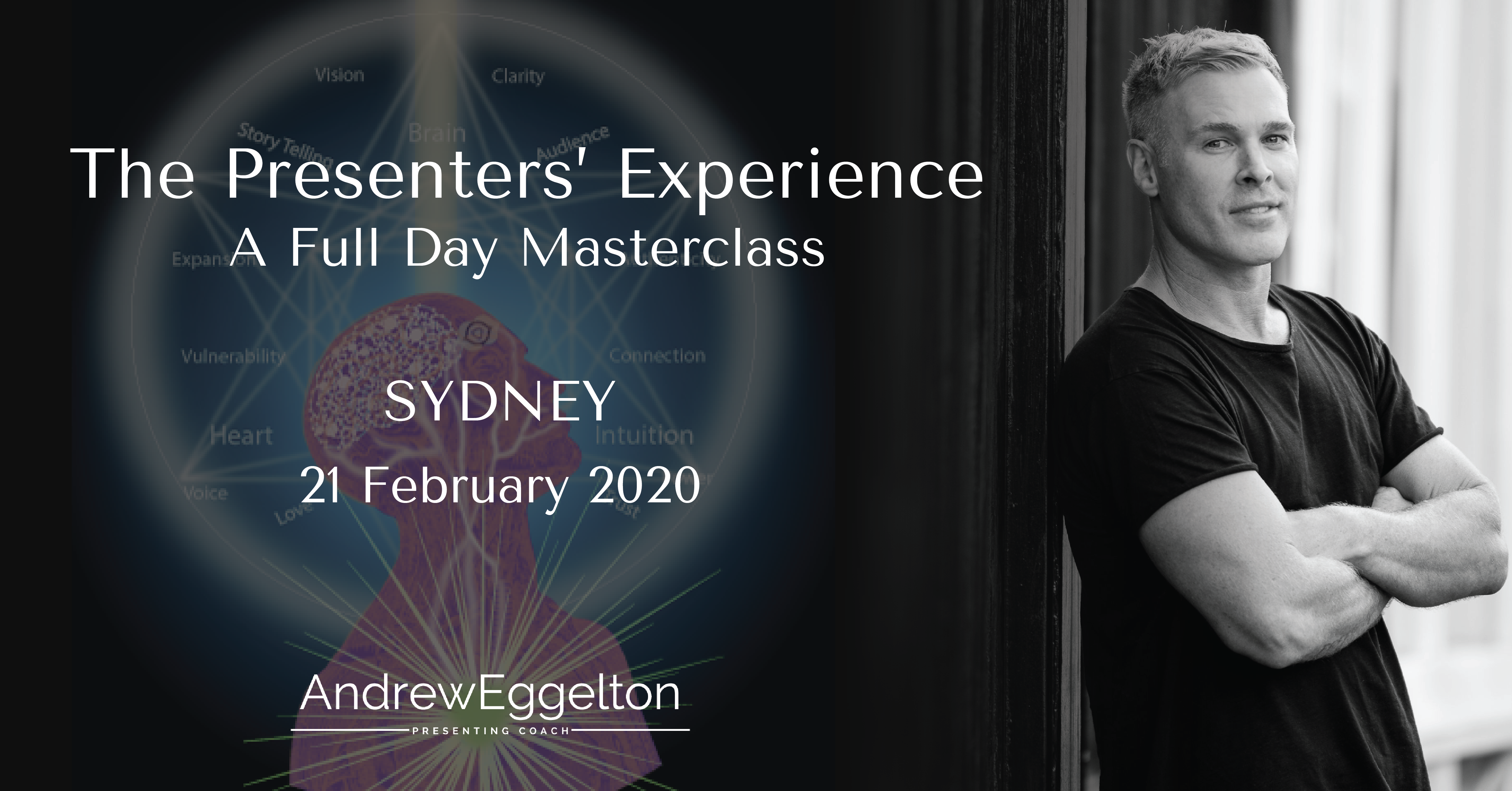 Image from eventbrite.com
---
BECOME THE GREATEST VERSION OF YOURSELF TO PRESENT FROM
With 26 years of experience in front of and behind the camera on Stage, TV and Film; I've created a style of Presenting that's taking the world by storm, that sees Presenters' effectively un-learning what they've been taught previously and instead, replacing with a style that feels like an extension of their greatest self.
The Presenting Methodology was created out of a desire to connect with my audience in a way that wasn't forced, wasn't a performance, it wasn't reliant on technical and they could feel in my words the essence of who I am.
It allows a Presenter to stand out by being the fullest expression of who they are every time they Speak; their words connecting with their audience's heart and soul.
'I KNOW THAT IN THE BELLY OF EVERY PERSON BURNS A FIRE THAT WANTS TO BE PART OF CHANGING THE WORLD'
In today's landscape, where Presenting has become a magnificent tool to leverage your brand and business; it's vital you stand out and not blend into the saturated level of mediocrity; where people have had the life trained out of them or acting out what their perception or fantasy of what a Presenter should look like.
We will learn to how to step into Flow to discover words and ideas around your topic that you didn't even know you knew, moment to moment stepping into our own greatness. It's then; your dream of helping change the world actually becomes a reality.
When on stage or camera I help Speakers and Presenters learn how to articulate the 'feeling' around their topic in front of their audience, tapping into something many will understand as 'Flow' or as I call it; becoming a Conduit for infinite wisdom. This, when in front of an audience, is what I call The Holy Grail of Presenting.
WORDS FROM HERE ARE THE VIBRATIONAL MATCH OF YOUR GREATNESS
It's a level of Mastery that goes far beyond the 'copy and paste' style we are predominately seeing every day on stage and camera. It's an unforgettable experience.
I specialize in 3 areas that will take your Speaking, Business and You to a National and International Status:
Your BUSINESS first, creating a network, a unique perspective and clarity of message and having a stand out experience, PRESENTING - how to embed the Eggelton Presenting Methodology, connecting to audience and self and using a Framework to play within, PERSONAL GROWTH so you're consistently creating a new YOU, attracting opportunity and experiences to propel yourself forward.
A powerful trifecta to continually create Presenting opportunities to showcase your value, build your network and a flow of leads. There's no point in being a great Presenter if you don't have the Business to leverage opportunity from and the ability to constantly grow into it.
My job is to create Presenters that are so good they take luck out of the game and create their own opportunities while others wait.
I've created the Speakers' lifestyle, traveling the world all year round, speaking on stage and mentoring those who wish to take themselves and their message Internationally. I embody the very things I teach, pride myself on being the best example of which I speak and make the most intangible concepts simple to understand and implement.
• I'll take you, in depth, through my Presenting Methodology and show you examples from within the room.
• We'll learn to how to give ourselves the best possible opportunity to step into Flow and Present from the Heart Brain, discovering words and ideas around our topic that you didn't even know you knew. Here we learn to play at the Vanguard of ourselves, standing out effortlessly from others while constantly going further and deeper into our content.
• We'll learn that to be Great on stage and camera, we also need to be Great off stage and camera. Total congruency.
• We'll learn how to prepare like a World Class professional, to play within a framework but not have to remember lines. Each and every Keynote should be a whole new experience.
• We'll go through, what's now notorious, Signature Experience 'AMPLIFY YOUR MOMENT', a journey of our future selves and bringing that into the now.
*A promise I keep is who you walk in as is not who you'll leave as
• We will go through E X P A N S I O N, which is, without doubt, my best tool and how I manage to grow so fast, create experiences and make the most of these opportunities.
• I will also show you how to use my unique Moment to Moment template to create your very own Keynote or talk for your workshop, Retreat or Video
• How to create engaging FB Lives and pieces to camera that STAND OUT, give you all your monthly SM content and allow you to go deeper into your purpose and unique perspective. *This is a Game Changer.
2720 Views - 22/02/2020 Last update
Mosman Art Gallery
1 Art Gallery Way, Mosman, 2088, NSW, AU
---
Are you an event organizer?
Create events for free. They will be immediately recommended to interested users.
Create event
Nearby hotels and apartments
1 Art Gallery Way, Mosman, 2088, NSW, AU
---
---
Mosman Art Gallery
1 Art Gallery Way, Mosman, 2088, NSW, AU
Event from
eventbrite.com
---
---
Are you an event organizer?
Create events for free. They will be immediately recommended to interested users.
Create event