RISE.AI Roadshow in Seoul: Networking Event
Wednesday 24 April 2019 7:00 PM Wednesday 24 April 2019 9:00 PM
Save
Saved
Last update 25/04/2019
2179
Greeting to all innovators and tech entrepreneurs!
"RISE.AI", Southeast Asia's First Corporate AI Accelerator program that will bring in 30 best-in-class AI startups from all over the world to Southeast Asia. Now we live in Seoul to recruit leading AI startups in Seoul, South Korea. We would like to invite you all to attend our networking event to further explore the AI horizon.
Get insights on AI adoption with our panelists from leading companies with the topic of "Corporate Growth is fueled by Future AI Solution". This event aims to exchange technological knowledge and business opportunities with leading Southeast Asian conglomerates and in order to foster long-term business and accelerate AI adoption in Southeast Asia.
Agenda:
18.30 - 19.00: Registration
19.00 - 19.20: Welcome Addresses and more about RISE.AI Accelerator Program
19.20 - 19.40: Panel: Corporate Growth is fueled by Future AI Solution + Q&A
19.40 - 21.00: Networking Session
Venue: DREAMPLUS Gangnam (드림플러스강남)
* Please make sure to attend the event if you RSVP.
* Free Food, Beer, Music & Gifts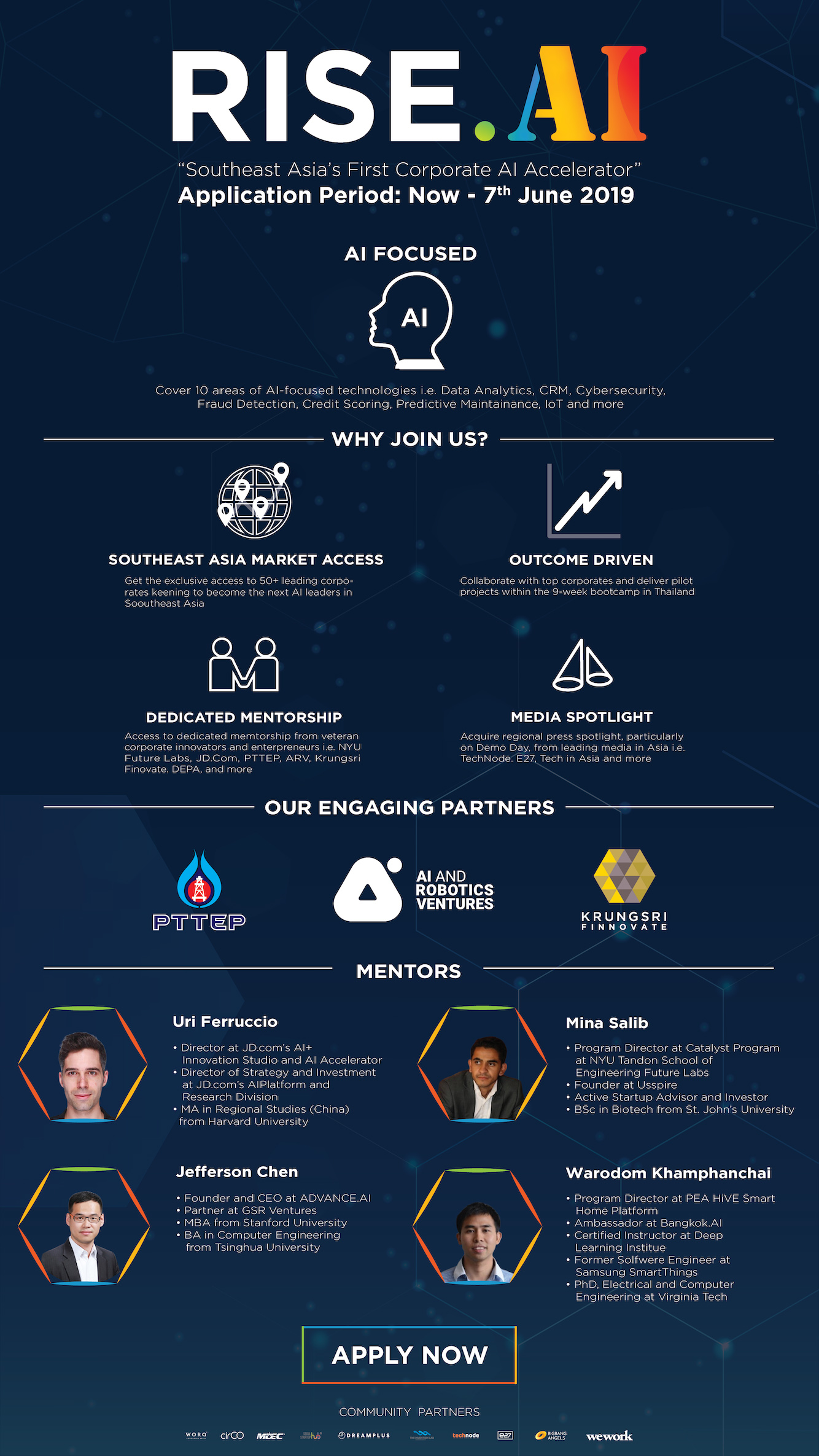 To explore more about our program, click here!
----------------------------------------------------------
If there are any questions, please contact- Namtom (namtom@riseaccel.com)
music
concerts
food
aperitifs
business
courses
Nearby hotels and apartments
DREAMPLUS Gangnam (드림플러스강남)
311, Gangnam-daero, Seocho-gu, Seoul, South Korea
DREAMPLUS Gangnam (드림플러스강남)
311, Gangnam-daero, Seocho-gu, Seoul, South Korea
Event from
eventbrite.com