Snowy Joy & The Griots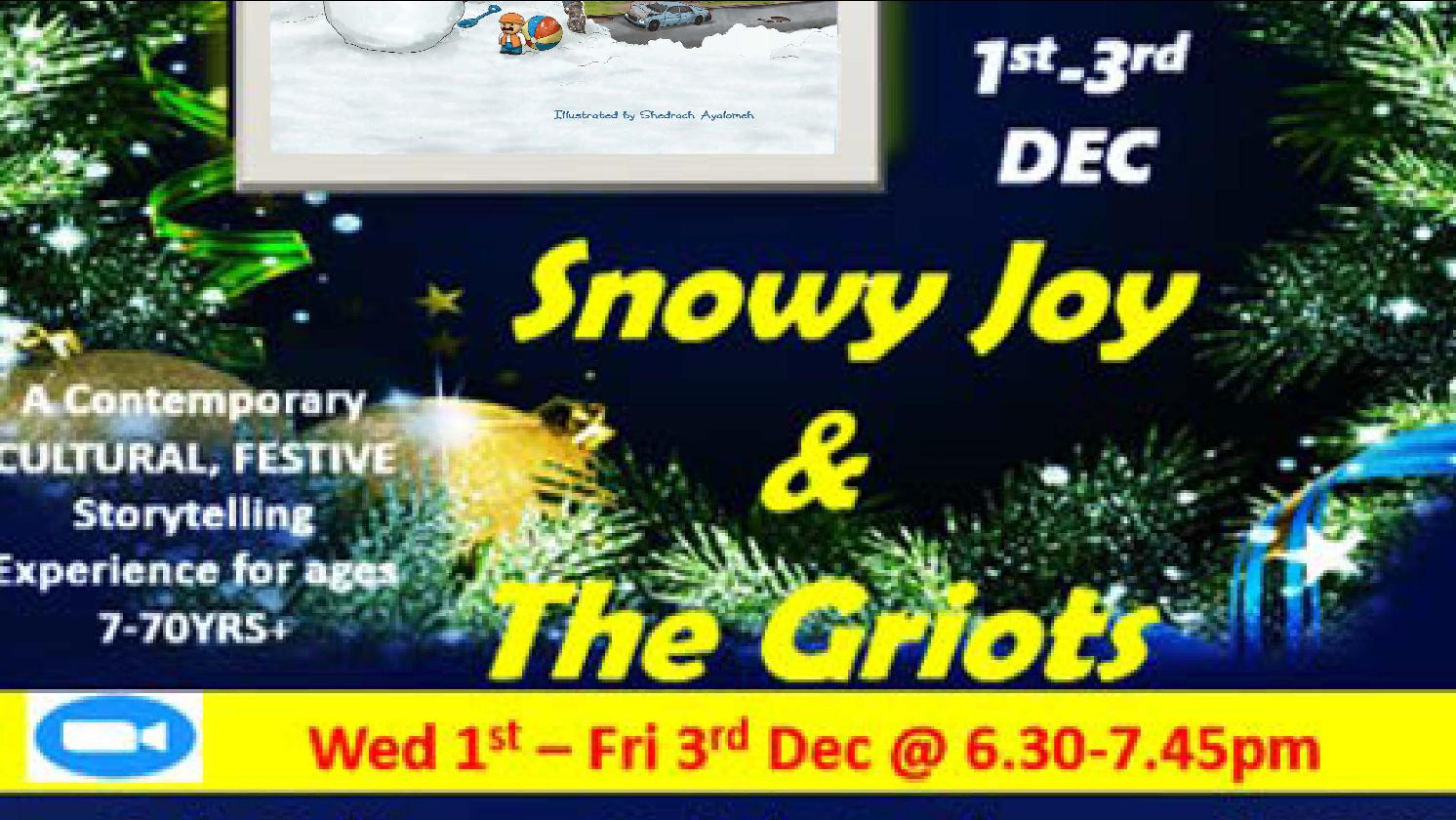 Image from eventbrite.co.uk
From Wed 1 December 2021 to Fri 3 December 2021
From Wednesday 1 December 2021 to Friday 3 December 2021
Hello! You've found yourself finding out about my upcoming event
Snowy Joy & The Griots (1st-3rd Dec)
Snowy Joy is a middle-grade read and was written in 2019 by myself (Sade Fadipe - a Children's Author) Teacher and Essex-based Mother. My first book A Fun ABC was granted notable recognitions (x3) in the USA.
I've put this 3-day event together based on a desire to reach out to parents and young families. Storytelling and authentic artistry is at the heart of this cultural event, followed by conversations around the core themes.
Day One: Wed 1st Dec 2021
Anchored by Ayo Osunrinade & Luana. Michels, the Unique Voices of Elizabeth Ukiomogbe, Adeshola Alli, Farida Ladipo-Ajayi, Godwin Daudu and myself shall set the stage for the Big Question of IDENTITY.
Have you forgotten how long it took you, to finally find yourself? This Conversation will provoke parents to engage their children in embracing themselves and all that they have been endowed with, whilst fleeing the pressures working against them.
Who We Are, Where We Are, Can we truly feel Comfortable with US?
Day TWO: Thurs 2nd Dec 2021
Anchored by Yinka Reis and Izehi Anuge, the Diverse voices of Joyce Peter, Samantha Mkuku, Kola Munis, Stella F. Ojediran, Godwin Daudu & myself, will set the scene for the difficult question of Migration, Pollution, Destruction and yes, WAR.
Should these be issues addressed within children's literature (such as Snowy Joy) or should they stay in classroom?
Recently, we experienced the compelling story of Amal Meets Alice in Wonderland, featured at the Children's Museum in Oxford. You'd be amazed at how much information your child is privy to at school. Why not start those conversations at home?
Why should we engage our kids in such conversations at home?
Day THREE: FRI 3rd Dec 2021
On Snowy Joy's 2nd birthday, anchored by Dee Lana & Yusuf Olarenwaju, the Seasoned voice of our Consulting Actress AYO Dele Edwards, Storytellers Stella Fawehinmi Ojediran, Samantha Mkuku, Margaret Omoniyi and Griot Godwin Daudu set the scene for Celebrations and Festivities.
We will reflect on our cultural practices during the festive season - how we differ and how we express our similarities.
Also, a time to collectively reflect on the three syllable word Em Pa Thy.
What Other Themes Have you Picked up from Snowy Joy?
How can we make this season a happy one for someone other than our loved ones?
I would be truly delighted to see you on either of the days!
But if not, I look forward to sharing news of my next adventure picture book, due out Spring, 2022!
Warm Thoughts,
SADE & THE GRIOT TEAM
3718657 Views - 04/12/2021 Last update
culture
art
education
family
Virtual event
Free time
music
soul
nightlife
party
international
---
Are you an event organizer?
Create events for free. They will be immediately recommended to interested users.
Create event
---
---
---
Event from
eventbrite.co.uk
---
Are you an event organizer?
Create events for free. They will be immediately recommended to interested users.
Create event