SOVEREIGN
COVID-19: many events have been canceled or postponed, please check with the organizer the event status.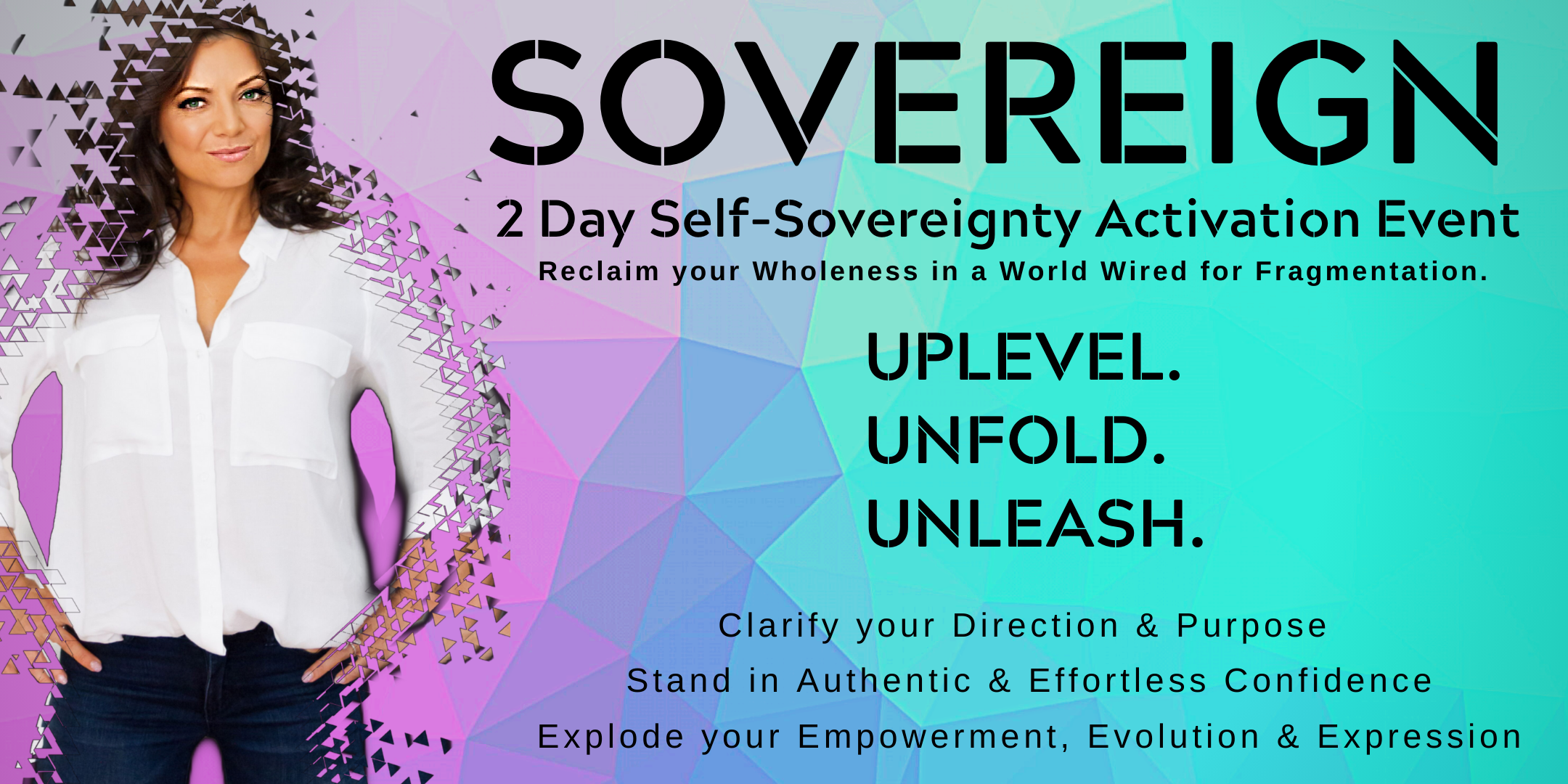 Image from eventbrite.com
From Sat 22 February 2020 to Sun 23 February 2020
From Saturday 22 February 2020 to Sunday 23 February 2020
---
2 Day Self Sovereignty Activation Event

2 POWERFUL DAYS TO UPLEVEL, UNFOLD & UNLEASH!
ACTIVATE your SELF SOVEREIGNTY & reclaim your WHOLENESS!
Get clarity, feel decisive and channel your true power.
Stop with the struggle, the hustle, the holding back and the dumbing down.
To step forward into your purpose... let your outdated identity die.
Now is the time.
The time for your potential to be accessed and your purpose activated.
Your TRUE purpose and path.
The one you know is waiting to be unfolded fully and explored completely.
The path that you've been afraid to claim, have ignored or didn't even know was there.
The time to start walking it, is NOW.
The time has come to shed the stagnation and fears that:
'I can't'
'I'm not good enough'
'I have no right or I need more XYZ...'
'They will laugh, not understand, or disapprove'
Those fears can feel true at times, but they aren't.
It's time.
No more treading water, playing small, staying stuck, confused or complacent.
The TIME is NOW.
Your LIFE, your full potential, and your true path are waiting!
Even if, right now, you lack full clarity or deep confidence - move forwards.
For they come after we take aligned action, not before.
Join Positive Change Facilitator & Human Potential Coach, Marina Perry as she shares TWO DAYS of Game-Changing information and activations.
This is not a sit and listen quietly event - yes you will be educated, inspired and enlightened - but this event includes way more than just note taking.
You will come away empowered and clear.
Literally the game will change in, and after, these two days.
Be in the room to gain:
Clarity of your true calling and core aligned dream life.
Understanding on why we all play smaller than we can? and how to work with, not against, these 3 universal codes.
The freedom and strength to shed the old stories and obligations.
Awareness on the limiting ties that tether you, keep you small and sabotage you time and time again.
Access into rewiring and recoding your own inner program so you can choose your sovereign reality and find freedom and ease.
The confidence and self-trust to follow your own unique path.
To experience shifts in your inner programming and capacity.
Impactful strategies and tools for embodying your higher-self immediately.
Your next decade deserves you in full alignment and fully activated.
If you are ready to:
Get unstuck and flow forward with fulfilment
Stop self-sabotaging and start succeeding
Feel clear, certain and confident about a powerful new reality and way of being
Start being the highest version of yourself, now!
Start building and being in your dream life, now
Increase your capacity for pleasure, joy, creativity, confidence and love
Connect deeply and without fear or blocks to others, yourself and life at large.
Then GET YOUR TICKET NOW to this amazing SOVEREIGN EVENT!
Held over two days on the 22nd and 23rd of February, 2020 in Brisbane at the Convention & Exhibition Centre, Southbank.
(If you are already a 'YES' and If you know the value of any training Marina gives - especially one at this Price, go grab your Ticket NOW! This Event will sell out!!!
Numbers are strictly limited! However, keep reading if you want more info and a deeper insight into what will go down and why)...
The simple truth is no one is coming to save you and to give you what you want.
Looking outwards; for the permission, the answer and the approval won't ever lead to happiness or your fullest expression.
Expansion is an inside job.
YOU have the power to unfold your own gifts, and light.
YOU have the power to love yourself more effectively.
YOU have the power to attune too and discern which decisions that are best for you.
YOU have the power to unleash endless energy & life force.
YOU have the power to heal and feel Whole.
YOU have the power to overflow with light and ignite others to do the same.
No - You don't have to change who you are or be someone else.
Rather, you simply have to unleash and awaken your Wholeness to stand in your full Sovereignty.
As the world's First (and some say best) Self-Sovereignty Coach, Marina is deeply committed to helping all humans own the fullness of their magnificence and magnify their unique more.
She has studied endlessly, across a plethora of modalities - including those based in neuroscience, quantum energy, somatic & holographic healing and teaches a unique and specific process for embodying our Wholeness and embracing our higher-selves (and best life) in a tangible real way - here and now.
Marina believes every human has an important purpose and amazing potential to contribute, and that the world needs the message and medicine we each are here to embody and offer. But she also knows that our inner programming often limits our experience of it. That many live their lives without their purpose, passion and potential ever being activated and actualised.
Why this obsession and this mission? Because Marina wants to help people awaken into their Wholeness and know true Sovereignty with Grace and Ease.
She doesn't want them to die without expressing OR to take as long as she did to align fully NOR have it cost them as much as it cost her - emotionally, financially and energetically.
Marina's story is not the often seen 'rock bottom to success' story - rather it is one that plagues even more souls in a much greater and insidious way.
You might know it, or can possibly relate in some way...
'Suffocation by success'.
Playing so well at the game of our inner coding that we get trapped in the code.
Caught in our own web.
Limited by our own rules and obligations around ourselves and life.
Marina openly shares the codes that she was raised on that she executed perfectly.
So well that she created and lived within a 'perfection prison' for many, many years.
Perfectly playing out what she perceived was her part in the way she felt it was meant to be played.
The results?
In the eyes of the world watching?
Success. A powerful, super woman with the 'perfect life'.
The true results?
A trapped, exhausted soul.
Not miserable, in fact often happy ... but mostly...
A fragmented machine that was great at 'the game' but not fully expressed.
Because the "game" she was in wasn't the game she was really here to play.
The price of getting out of a game she didn't want anymore?
A marriage breakdown, near bankruptcy, addictive coping mechanisms and the rest....
But your awakening and sovereignty doesn't need to cost you your marriage, your health or your wealth.
In fact Marina is determined for it not too...
As she'll explain at the SOVEREIGN Event.
She believes 'you can have it all' - as she does now - and she wants to show you the shortcut there.
You don't need to suffer or waste unnecessary time or money.
She'll share how being out of alignment and not in your Wholeness isn't always obvious from the outside, and it doesn't always feel terrible inside either... because we get payoffs in subtle (or obvious) ways - praise, applause, financial wins etc...but there are simple and easy ways to know when you're out of flow.
She'll take you through these powerful tools on Day 1.
Tools that will ensure you don't get stagnated in complacency. Or trapped in the addictive cycle of over-achievement.
Having risen (without a guide) through the rubble and destruction of her awakening and re-alignment, Marina's journey to Sovereignty is your gain.
Her mistakes and misses gave her valuable learnings and lessons.
Tools and teachings she's used in the last two decades to coach thousands of people in well-being, business, mindset and even higher levels of health, happiness & heartfulness.
If you are looking for a little positive change, or a lot of positive change in any areas of your life - relationships, health, career, finances, love, spirituality - get yourself in the room because you will most certainly leave shifted in your embodiment and clearer on your path, purpose and potential.
DAY 1 - Marina will take you through Inner-Sovereignty and cover why we sabotage, how we limit our potential and how to attune to your true purpose and embody your Wholeness. Day 1 is about mastering the Alchemy of Inner-Sovereignty.
DAY 2 - Take off from day one and is a journey into how you engage and interact with the outer world from a place of Sovereignty. How do you activate full authentic expression, engage in authentic connected relationships - with family, friends, partners and colleagues. And how do you ensure you are on your path and living into your purpose and potential - how do you activate leadership in your career and how do you engage and interact openly with those you love most. Day 2 is all about Outer-Sovereignty - Expression, Embodiment and Leadership.
Both Days are designed to be done together, but you can purchase tickets separately if time frames pose an obstacle.
GRAB YOUR TICKET TO DAY 1 OR 2, OR BOTH, NOW!
(If you are already a 'YES' - grab your Ticket NOW! However, keep reading if you want to know about what Self-Sovereignty is and what you'll gain from being at this powerful Event!).....
SELF-SOVEREIGNTY What is it...?
Self-Sovereignty Coach is a phrase coined by Marina back in 2017, when in a room of "confidence"and "self-love" coaches Marina claimed her title as a Self-Sovereignty coach.
Yes. She needed to explain it to them too!
Stating that Self-Sovereignty is when a person becomes embodied in, and acts from, the highest expression of their Wholeness.
When ALL PARTS are alchemised into our Whole unconditionally and a person is self-generating in their intentions and self-sourced in their emotions, thoughts and behaviours - and their actions align with those intentions and choices.
Make no mistake. The world will be healed by Self-Sovereignty. Not self love, selflessness or self-acceptance. Nope. By Self-Sovereignty. Those are all important elements, but individually are not enough. Nothing short of Self-Sovereignty will solve the epidemic of fear limiting humanity from its fullest potential for unconditional love, connection, collaboration and celebration.
To embody Self-Sovereignty one must:
Stand in their truth
Honour their truth
Embody their truth
Heal their wounds
Welcome their Wholeness
Know their purpose
Magnify and share their unique more
There are 7 Elements to embodying Self-Sovereignty. Mastering them all will result in:
Confidence to be yourself and live your purpose in your way - no more worrying about what others think or doubting yourself, your decisions or your worth.
Clarity on what and who you are here to do and be.
Access and activation of your core compass - no more excessive questioning, guessing or overthinking required.
Compassion for self and others - to let go of resistance and welcome the Wholeness of your being and those around you.
Connection to self, source and others on the deepest, most nurturing and healing level.
Celebration of life (and all its seasons ) as well as yourself and all your parts.
Self-Sovereignty requires shedding the stories, outdated patterns and the fears.
It requires owning our wholeness and healing our wounds.
It requires integrating all our parts and revisiting our identity from a place of authenticity, alignment and awareness.
It requires embodying new things and exploring our capacity.
Stepping to the edge and staying present to what's next in our evolution.
This journey to Self-Sovereignty and how it applies specifically to your life is precisely what you'll learn and be guided through at the SOVEREIGN EVENT.
These two days exist so you can fulfil your potential.
So you can effortlessly move through life without the fears of judgement, desertion, failure or rejection keeping you captor.
So you can be happy.
Not fake 'I-SHOULD-feel-happy' happy
or 'insta-happy'
or I have many blessings, 'I- should-be-grateful-and-happy' happy.
No.
The happy that's actually a default state of being once you stop blocking it.
The steady blissful joy of being in the width and depth of your Wholeness and the safety and sacredness of your Sovereignty. Happy, happy!
It's about allowing ease and grace to flow and releasing stale, stuck and stagnant.
It's about stepping from;
Striving into thriving.
Fear into freedom.
Masked into magical.
Hurt into healed.
Numb into knowing.
Crisis into calm.
Confused into centred.
Hiding into honouring.
At the SOVEREIGN Event you'll learn:
The 4 ways we undermine our Self-Sovereignty
The 7 elements to expanding fully into your Sovereignty
The 3 Critical Codes for rewiring ourselves out of complacency, a perfection prison or sabotage cycle.
The 5 steps to creating aligned momentum and flowing into fulfilment.
You are the Sovereign ruler of a magical space...the Sovereign guardian of YOU.
YOUR life, YOUR energy, YOUR impact, YOUR story.
You get to create and choose.
To expand and explore
To redesign or rewrite.
To amplify and align.
To throw out or step in.
But do you have the steering wheel? Are you in the captains seat?
Do you have your destination in sight and your sails adjusted accordingly?
WHAT WILL YOU DO? WHAT WILL YOU CHOOSE?
If you are ready to have your dreams and desires show up as your reality, now...
Get yourself in the room.
If you're ready to be the best version of yourself - to be your highest expression...
Be at the SOVEREIGN EVENT!
If you want to design and breathe to life (for reals) your Best/Dream life ...
BUY YOUR TICKET NOW!
This event is intentionally priced to be insanely affordably. Far less than Marina's other trainings. Why?
So that price can't be an obstacle to you learning how to step out even further of your own way :-).
We've done our part. Now it's time to do yours.If you want too...
If you're ready too.
We're all in this together. When one rises, we all rise.
One extra light, helps to light another.
Don't think anymore... just leap - we'll catch you.
We look forward to seeing you at this amazing event!
It's time.
Now.
Time to stand SOVEREIGN.
Please Note: Once you register you'll get all the info you need on what to expect, what to bring and how to best prepare. See you at the SOVEREIGN EVENT!
1288 Views - 24/02/2020 Last update
pullman brisbane king george square hotel corner ann and roma streets brisbane cbd, qld, 4101, qld, au
---
Are you an event organizer?
Create events for free. They will be immediately recommended to interested users.
Create event
Nearby hotels and apartments
pullman brisbane king george square hotel corner ann and roma streets brisbane cbd, qld, 4101, qld, au
---
---
pullman brisbane king george square hotel corner ann and roma streets brisbane cbd, qld, 4101, qld, au
Event from
eventbrite.com
---
---
Are you an event organizer?
Create events for free. They will be immediately recommended to interested users.
Create event