Townsville Sketchfest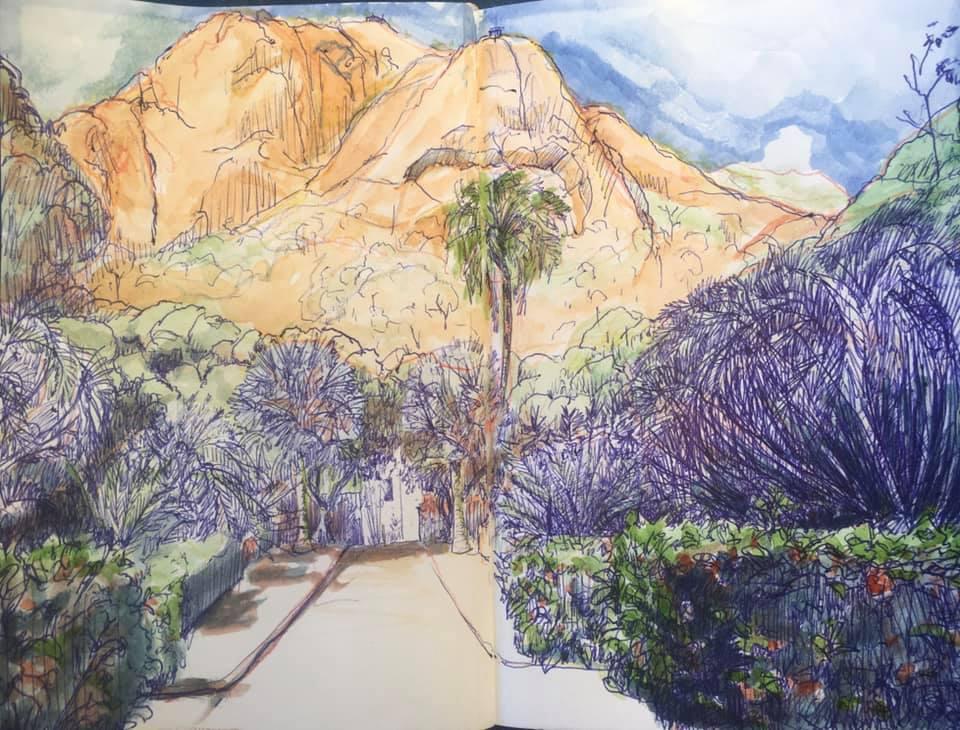 Image from eventbrite.com
From Fri 5 June 2020 to Sun 7 June 2020
From Friday 5 June 2020 to Sunday 7 June 2020
---
GARY GERATHS (USA)
In the Thick and Thin of it – Using Gouache and Watercolor Pencils
The objective of this workshop will be to explore the possibilities and process of layering gouache and colored pencils together to achieve unique textures and a wide array of color effects in your artwork. During the class we will be applying think and thin paint to quickly "shape-weld" a composition together with opaque values and color. As we move through building the images we will add selective areas of gouache/watercolor and pencil to explore problem solving, suggesting form, lighting a scene and making the most out of those pesky "mistakes" all we urban sketchers run up against. Especially important will be at the conclusion where we will discuss moving and shifting focal points and textures and the best way to use various techniques to describe your artistic vision.
Gary Geraths is a Southern California based artist currently an art professor at Otis College of Art in Design in Los Angeles. He teaches Landscape Drawing and Painting, Life Drawing and Animal Drawing & Anatomy (a subject he has published two books on) and several other classes. Gary has also worked in the entertainment industry at companies such as Disney, DreamWorks and various game studios. Gary has also taught several Urban Sketchers 10X10 workshops on subjects such as compositional design, color in light and crowds, figure & portrait and put those subjects to use as a courtroom sketch artist. Currently his passion and focus is on travel, exploring and discovering new unique locations to get inspiration to draw and paint. These locations vary from Tibet, Nepal, China, also throughout Europe and extensively in the vast wilderness areas of the Western United States from Alaska to Baja California.
Materials list:
Paper-Cold Press –A rougher surface but use your own sensibilities as to what works for you. Paper should be fairly thick to take lots of paint and pencil scribbling.
Sketchbook – For thumbnail comp sketches or watercolor paper book with protective covers.
Paint- Gouache if you already have a selection that's good but primary colors and earth colors should suffice though watercolor would also work well and to keep the budget down. Make sure you bring a tray or palette that can contain pools of paint and have a good mixing area.
Brushes – Medium to large (3.8 cm to .635 cm) flats, chisels and rounds. A good of assortment of different brushes would be good to experiment with.
Pencils – Bring a good selection of watercolor/aquarelle pencils – especially warm and cool colors with well saturated hues. Also include some regular Polychrome colored pencils with vibrant and earth colors that hold their lines on wet paper
Water Jug/Container – A good sturdy plastic, collapsible cup or bowl and a bottle/jug to carry out to the workshop site (we may be somewhere where freshwater isn't available). PLEASE no glass cups or containers.
Clips – Spring loaded larger clips so you can attach your loose paper to a board or hold sketchbook pages down in a wind.
Townsville Sketchfest
June 5 - 7, 2020
If you've ever wanted to draw in a community, learn to draw or are looking for something new then join us for three days of drawing in Townsville and its surrounds. Grab your sketchbook, pens and come sketch for winter in the tropics.
Your ticket includes a choice of two workshops led by artists: Gary Geraths (USA), Gai Copeman (Townsville), Eleanor Doughty (USA), Gerald Soworka (Townsville), Vincent Desplanche (France), Peter Rush (Sydney), Carole Howlett (Townsville) and Ron McBurnie (Townsville). In addition, it also gives you access to:
Official Townsville Sketchfest launch in conjunction with PechaKucha 20 x 20 event (includes artist talks by each of the workshop tutors in PechaKucha's iconic format)
Saturday sketch walk
Sunday sketch walk
Eat, Drink & Draw event
Closing event
See below for the full schedule of Townsville Sketchfest, workshop briefs and biographical information on each artist. See the "details" section of the ticket for more information about the listed events.
*please note the USk Townsville sketch walk on Monday 8 June that you may also like to join.
Ron McBurnie (Townsville)
White on Black: Drawing the light using a dip pen with white ink on black paper
This workshop will introduce the materials, processes and approaches I use when I work with a dip pen with white ink on black or darker toned papers. It will primarily focus on adapting these techniques to an en plain air drawing of trees. During the instructive workshop I will also show and talk about a selection of work I have made using the same process.
Ron McBurnie is a practicing artist and educator who lives in Townsville. Although his work and research relate strongly to the tropical environment of North Queensland where he lives, he also draws inspiration from an earlier tradition of British and European printmaking and painting. Ron has an extensive exhibiting history with more than 30 solo and touring exhibitions and over 100 group exhibitions. He has received numerous awards and grants including the Fremantle print prize, and of the Australia Council overseas studio grant at the Cite' International des Artes Paris. Ron has travelled extensively and has been Artist-in-residence at Alayrac France (2009-11-13-16) Carleton College Minnesota (2006), Frans Masereel, Centrum Belgium (2004),(2011), ANU Canberra (2001-02-04-07-10-14) as well as the National Art School Sydney (2010-2011). Ron's artwork is represented in many Australian regional gallery collections, most major Australian State galleries and the National Gallery of Australia and Parliament House Canberra.
Materials list
A dip pen holder with post office nib or similar
Art Spectrum permanent white drawing ink (most drawing stores), Dr PH. or Martins Bleed Proof white (available through Amazon Australia)
Black or dark coloured paper suitable for drawing. Papers such as Canson Mi-tientes or similar are good. I use Mi-Tientes black pastel drawing A3 pads which have a cardboard back and contain 15 sheets. Any dark colour drawing papers will also work
Drawing board clamps etc
Water container/ small bucket jar etc,. with water
Small mop brush for diluting or carrying water to inkwell.
Small blade (such as a scalpel used to remove unwanted lines)
a hat, sunscreen and chair
Vincent Desplanche (France)
Breathe life into your sketches
How do you combine figure drawing and landscape in urban sketching ? This workshop aims to demonstrate that drawing people and landscapes are not so different. First, you will be taught few tricks for sketching people. Then, you will go from the figure to the landscape and see how to compose a sketch combining both. The second part of the workshop will be a brief introduction to the colour which you will then apply to your compositions.
I imagine this workshop as a progression from drawing to colour; from the people to the scenery. The two exercises will be of the whole workshop experience. The goal of the first part is to find a starting point from which to draw things quickly and be able to capture moving things. The aim of the second part is to present a method where colours can be successfully added into drawings. Too many sketchers suffer from a colour complex whereas they have a fantastic inner colour world.
Vincent Desplanche is an illustrator, watercolorist and print maker, graduate from École des Beaux-Arts of Lyon 1991 and the École des Arts Décoratifs of Strasbourg (diploma of illustration) in 1993, who was mentioned for the quality and versatility of the work. After several years (1994-2002) as a concept artist in video game industry, Vincent worked as a non-fiction children books illustrator until 2015. Today he mainly creates illustrations for books, museums and communication prints about nature, wildlife, tourism and heritage with his associates of the artist collective Boraldes.
Since 2010, he is one of the main correspondent of Urban Sketchers France, he organizes Sketchcrawl meetings in Toulouse, his hometown, and teaches watercolor and drawing workshops in France and Switzerland. Vincent regularly participates to exhibitions in France, Belgium, Switzerland and Italy. His favorite topic is undoubtedly mountain landscapes. He loves to walk and climb the slopes and capture this imprint with large brush strokes in the pages of his sketchbooks. Woodblock printmaking, according to the Japanese process of Moku Hanga, has become an obvious outlet to his sketch work.
https://vincentdesplanche.blogspot.com/
https://www.flickr.com/photos/vincentdesplanche/
Materials list
Waterproof ink pen, biro or pencil (no eraser required)
Watercolour box set, colour pencils and markers
Sketchbook A5 or A4 landscape watercolour or a mix-media paper 200gsm
All-purpose sketchpad or copy paper for quick line sketch
Eleanor Doughty (USA)
Dry Air: atmospheric perspective in mixed media
Learn how to play within the rules of atmospheric perspective to create an interesting, vibrant sketch! This class will instruct techniques to push back and pull forward different layers in a composition by taking advantage of different attributes of our drawing tools, with an emphasis on dry media. By using pens, watercolor pencils, crayons, markers, etc. in tandem, we will learn how to create a clear, interesting drawing imbued with the sketcher's unique perspective. Participants will find new ways to think about their tools, as well as composition.
Eleanor Doughty lives in Seattle, Washington, U.S.A. and has worked as a full-time freelance artist since 2017. Her clients include Hilton, Kroger, Marriott, Microsoft, Penguin/Random House Publishing, and VICE. She has also been commissioned to create large-scale works on the east and west coasts of the U.S.A in the style of her urban sketches and landscapes. Eleanor taught workshops at the Urban Sketchers Symposium in Amsterdam in 2019 and is a correspondent for Urban Sketchers Seattle.
Materials list:
2-3 sheets of paper around A4 size. 300gsm (hot press, not textured)
a sketchbook/notebook for small thumbnail sketches
a wide range of drawing tools (don't be afraid to bring a lot of stuff!). Bring several in the same color range (e.g. all blues, all sepias, all grayscale, etc) — some in lighter shades and some darker, but several around the same hue. For example: blue ballpoint pen, light blue marker, dark blue watersoluble crayon/pastel, medium blue watercolor pencil
Consider bringing a few water soluble tools, such as watercolor pencils, to play with softening areas
Media that can make white marks –– such as a paint marker, correction pen, white-out, acrylic, white gouache, gel pen, etc
Some kind of broad-tipped media that can color a lot of paper fast — A watercolor set & a large brush is probably the best tool. But we just need something that makes marks wider than ~3cm per stroke, e.g. a big paint marker
Peter Rush (Sydney)
Street busyness and urban spaces
In this workshop we will put our sketchbooks aside and do our best not to be possessive about our work. The intention is to draw freely and release some inhibitions to reflect all the dynamics of city life. We will be sketching urban spaces on loose plain paper and the reverse side of cardboard packaging, particularly cereal boxes. The colour and texture of these boxes enhances colour pencil sketches. Also the mechanical form of the box cutout perfectly expresses the urban world.
We will let our hands go free, do our best to get away from the carefully rendered line. With pen and pencil we will quickly draw the urban spaces we encounter. We will observe urban space and then drawing everything in it. - more energy, less labour, allow your spirit and character to show in your work - not to look at objects in isolation, see that everything is interconnected.
Capture the mood and energy of a space. This space can be anything, an intersection of streets, the dead end of laneway, the long space of a shopping arcade with all its jumble of signs. It could be clusters of people at a busy shop counter. Allow yourself to get caught in busy juxtapositions of busy streets, capture the moment. Draw all the mess, the signs, traffic lights, the ornate facades, car clogged streets in one glorious whole.
The workshop will involve 3 exercises each evolving to culminate in a complete final work. To begin I will led the group on a short walking tour to show and explain the urban spaces I am observing from an architectural point of view and my perception of understanding these spaces. This is to introduce to the group how I observe the city and what inspires me in my urban sketching. We will return to those visited spaces for our exercises.
Peter Rush is a Sydney based architect and artist whose drawings are essentially architectural, not in an analytical deductive way, but focusing on the mood and energy of a space. He particularly enjoys drawing what are normal familiar streets, places that local people will know and recognise but represented in a spatially dynamic way they may not have previously considered. Peter is not precious about his work as he prefers to record a moment. He is very flexible about how he draws and often uses opened boxes and coloured pencils. Cereal boxes are good quality card and allow him to use lighter colours more effectively. He sees the form of opened boxes frame that emphasises the mechanical nature of our cities.
www.instagram.com/peter_rush_drawings
Materials list
Pigment Ink Pen - minimum 0.5mm drawing pen. Suggested brands, Artline Drawing System or Rotring Tikky Graphic. Or a medium or broad nib fountain pen.
Graphite pencil - minimum 2B, can be up to 6B
Colour pencils: Prismacolor or Derwent Drawing Series recommended
Paper / cardboard: Good 200 gsm white paper, found paper on the streets, recycled packaging like cereal or biscuit boxes.
Gerald Soworka (Townsville)
Splash and Splatter
This workshop will be a combination of expressive mark and colour with precise observational drawing. We will be exploring the versatility of the humble Biro combined with watercolour washes that go beyond colouring in and realistic colour.
An exhibiting artist with over 25 years experience teaching art to adults, Gerald Soworka's primary focus has been on drawing in all its forms. His main subject has been the human figure and the exploration of embodiment and being-ness. He has work in several regional collections and the State Library of Queensland. He thinks observational drawing is a skill up there with the three Rs and should be a fundamental of the education system.
He's currently a slow, sketchbook-powered traveller based in Townsville and part of the Drawn to Bali team that takes people on a seven day sketching intensive workshop in exotic Ubud.
http://canetoadhunter.wix.com/canetoadhunter
Materials List
basic watercolour kit
two blue ballpoint pens
2B pencil or coloured pencil,
heavy cartridge or better paper (smooth, hot pressed)
Carole Howlett (Townsville)
Downright Drawsome
In this workshop we will use dry medias including pencil and conte stick to capture an iconic Townsville view. The workshop will focus on capturing shape and tonal contrast in order to create quick, expressive and confident drawings. With tone and a variety of mark making techniques we can enhance your sketches to create strong, bold drawings.
Carole Howlett has lived in Townsville for many years now, after moving over from the UK. She works in charcoal, pencil, pen, acrylic, oil, or sometimes a mixture, whatever the tool, Carole finds drawing to be a great leveler, as she believes that no matter what your background, or personality is drawing has its own universal language.
"Whatever I'm portraying whether it's a landscape, cityscape, still life or the dog, I like to think I do it justice when portraying its strengths. I like to try and grab hold of my first impression and record it as quickly and directly as possible. I love to strip something back to its core, dismiss all of the nitty gritty detail and render what I find important. The result is often kind of a semi abstract style but still recognizable and mine. I really enjoy the decision making process while painting or drawing, learning to trust my instincts when I feel the need to take risks with what I hope will work. "
Materials list
A3 sketch pad or paper (Cartridge paper, 120 gsm)
Pencils (HB ,4B, 6B)
Conte Sticks (one black, one white)
Smudging stick (paper stump) size 6
Eraser
Pencil sharpener or sharpening knife
Drawing board
Schedule of events
Friday 5 June 2020
5 - 6 pm: Registration at Drill Hall Studio
6 for 6:30 pm: Official Townsville Sketchfest launch in conjunction with PechaKucha 20 x 20 event
Saturday 6 June 2020
8:30 am: Briefing at Drill Hall Studio
9 - 11:30 am: Workshop
2 - 5 pm: Sketch walk (departs from The Drill Hall Studio)
6 pm: Eat, Drink & Draw at Heritage Exchange
*please note that Eat, Drink & Draw is not an official event. This is simply a suggested opportunity for sketchers to gather at a place to do as the name implies. Please bring valid ID and your Sketchfest pass.
Sunday 7 June 2020
8:30 am: Briefing at Drill Hall Studio
9 - 11:30 am: Workshop
2 - 5 pm: Sketch walk (departs from The Drill Hall Studio)
6 :30 pm: Closing event
Whilst not officially part of Sketchfest you might also like to join USk Townsville for this:
Monday 8 June 2020
9:30 am - 3 pm: Sketch walk on Magnetic Island with Urban Sketchers Townsville.
*ferry /bus ticket not included
Feel free to join Urban Sketchers Townsville for a sketch walk around Magnetic Island on the Monday after Townsville Sketchfest. We'll sketch from Alma Bay for the relaxed drawers and the Forts Walk for the fitter types. Then on to Horseshoe Bay for some lunch. Please note this is a regular Urban Sketchers meet so is free for all to join and not an official part of the Townsville Sketchfest. You will need to purchase your own Sealink ferry and bus ticket. Join Urban Sketchers Townsville group on Facebook for details of the event.
For further information please email : Townsvillesketchfest@gmail.com or phone Michael Pope on: +61 409 871 977
Townsville Sketchfest is supported through the Regional Arts Development Fund, a partnership between the Queensland Government and Townsville City Council to support local arts and culture in regional Queensland.
Townsville Sketchfest would like to further thank all sponsors, volunteers and in kind supporters including The Hotel Grand Chancellor Townsville, Sealink, The Drill Hall Studio, PechaKucha Townsville, Urban Sketchers Townsville, Heritage Exchange, Dave's Pizza Ovens, Tonoirs Espresso Bar and Insideout Architects.
Banner image credit: Gerald Soworka
Gai Copeman (Townsville)
Letting loose in the tropics
Often when travelling there is no time to do detailed images of places we visit. This workshop will focus on creating images that evoke the atmosphere of the place. We'll look at techniques that create loose impressions in watercolour and therein capture the memory of the places we visit.
Gai Copeman is a local artist whose medium is watercolour. She is a keen traveler and plein air painter, who never misses the opportunity to paint wherever she is visiting.
Gai has taught watercolour workshops and is a member of the Townsville Watercolour Group. She has had solo exhibitions and participated in a number of group exhibitions winning a number of awards for her work. Her paintings are held in private collections throughout Australia and overseas.
Materials list:
300 gsm A4 watercolour paper or pad (cold press)
watercolour paints and a range of brushes
a 2B pencil and or pen
a water container
a board with clips or masking tape to hold the paper down
Frequently Asked Questions
What does my ticket get me and which artist's workshop is which day?
Your ticket entitles you access to all listed events as well as the selected workshops on your ticket. Please note the order of the artists' names on your ticket. The first artist's name indicates Saturday's workshop and the second artist's name indicates Sunday's workshop. The workshops have been programmed so you have one workshop with a visiting artist and one with a local artist. Any food, drinks or transport is your responsibility though.
What's a sketch walk?
During these events feel free to sketch anywhere along the defined route. It's an opportunity to sketch with friends or follow an artist you like as you explore Townsville's built and natural environments. Do one drawing or multiple; there are no rules other than to draw en plien air (outside). At the end of the sketch walk all sketchers are encouraged to gather at a predetermined point for a 'throw down', which is basically a group photo opportunity and chance to look at everyone's sketches. You'll receive a map with the sketch walks when you register on Friday 5 June 2020.
How far are the workshops from the venue?
The workshops are located all within a comfortable walking distance from the Drill Hall Studio (between 5 - 15 minutes walk). Each morning at 8:30 am you'll meet your workshop group and walk there together. If you'd prefer to drive you can find out the location from your instructor at the morning briefing and meet them there.
Do I need to be able to draw?
All levels are welcome and encouraged. The workshops and events are designed for all skill levels. Honestly, it's just practice so come and give it a go. You'll find the community of Urban Sketchers to be very welcoming and supportive.
What should I bring?
Check out the materials list under each artists' bio. You'll need those materials and whatever you usually sketch with. Even though it's winter in Townsville the weather will be quite warm during the day. You'll need a hat, sunscreen, water and most sketchers like to bring a stool.
What's PechaKucha 20 x 20?
PechaKucha (Japanese for "chit chat") is the world's fastest-growing storytelling platform, used by millions around the globe. 20 slides. 20 seconds of commentary per slide. That's it. Simple. Engaging. Spurring authentic connections. PechaKucha is the ideal tool to share passions and drop some knowledge. At Townsville Sketchfest each tutor will present about themselves in PechaKucha style!
Watch some here: https://www.pechakucha.com/
What's Eat, Drink & Draw?
This is not an official event but is an informal opportunity where you can sketch with old or new friends at a local pub. The location is the Heritage Exchange, 151 Flinders St, Townsville. Please ensure you have valid ID and your Sketchfest pass to gain entry and, of course, you'll have to buy your own food and drinks.
What about Magnetic Island?
It's so worth it! Please. Please. Please make at least a day for this amazing place.
You're welcome to join the Urban Sketchers Townsville group on Monday 8 June 2020 over on the island. We'll do a sketch walk in Alma Bay. It's just a short ferry and bus ride away. More adventurous individuals might like to walk from the ferry to Alma Bay and sketch along the way or go straight to the Forts Walk for some WW2 history, epic views and maybe a koala or two! After sketching feel free to join us in Horseshoe Bay for some lunch before heading back to Townsville. You'll just need to buy a return ferry and bus ticket. Join Urban Sketchers Townsville Facebook group to register for this. It's free as this will be a regular USk event (Urban Sketchers) but you will need to get a return ferry and bus ticket. You can purchase this online at: https://www.sealinkqld.com.au
Where should I stay?
That's completely up to you and your budget; anywhere in Townsville CBD or North Ward would be within walking distance to The Drill Hall Studio. The Hotel Grand Chancellor are our official sponsor and are putting our artists up for free so we'd love it if you supported them.
6830 Views - 08/06/2020 Last update
mitchell street
the drill hall studio 27, qld, 4810, qld, au
---
Are you an event organizer?
Create events for free. They will be immediately recommended to interested users.
Create event
Nearby hotels and apartments
the drill hall studio 27, qld, 4810, qld, au
---
---
mitchell street
the drill hall studio 27, qld, 4810, qld, au
Event from
eventbrite.com
---
---
Are you an event organizer?
Create events for free. They will be immediately recommended to interested users.
Create event