Tropical Fruits Neon Garden NYE Festival 2017
Sunday 31 December 2017 8:00 PM Tuesday 2 January 2018 1:30 AM
Save
Saved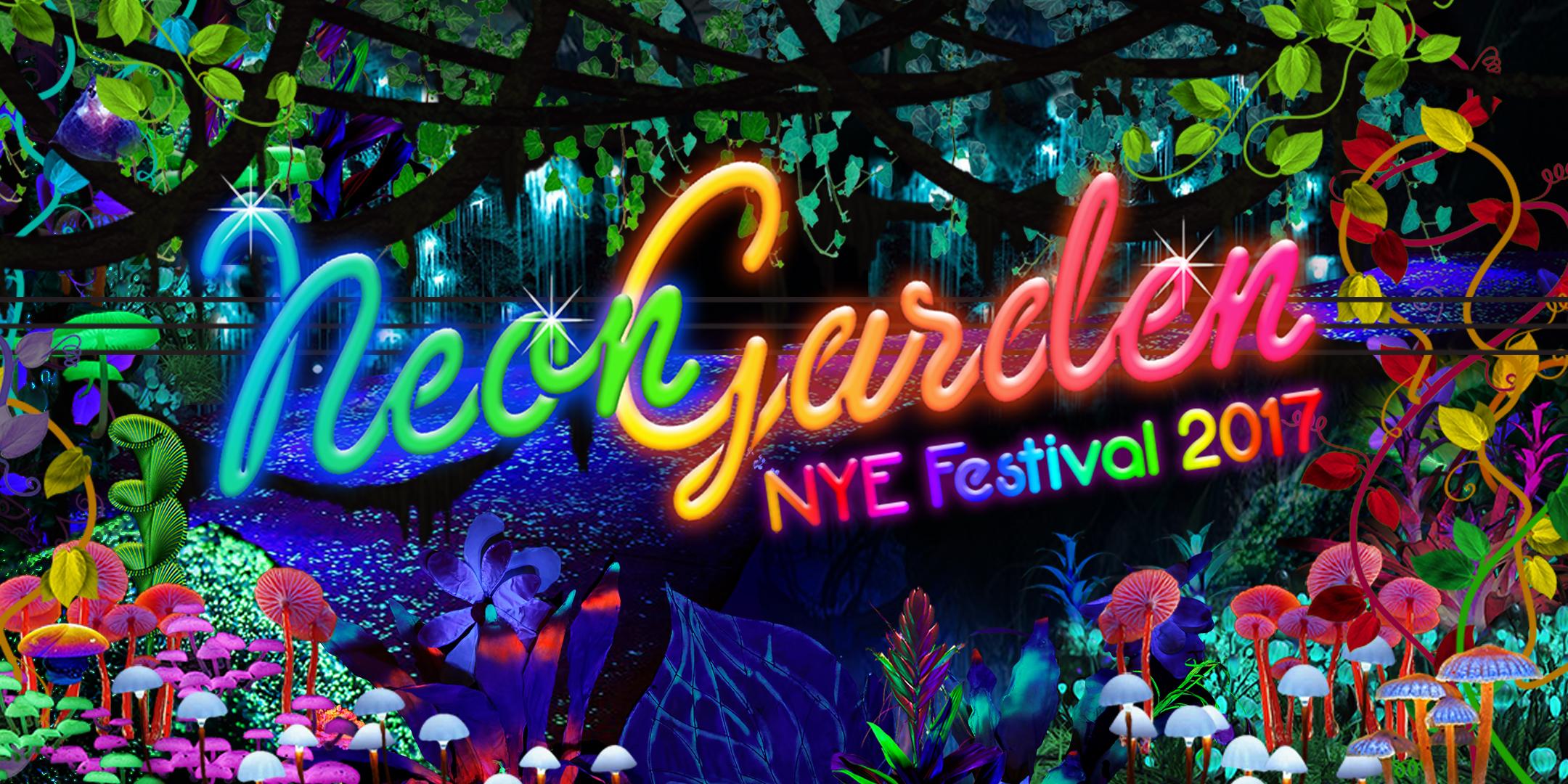 Last update 03/01/2018
241
CAMPING BOOKINGS HAVE CLOSED.
This New Years' Eve we welcome you to Midnight in the Garden of Fruity Delights, as we illuminate the darkness and unlock the gates to our lost neon wonderland. Be entwined in fluorescent vines, seduced by the glow of carnivorous flowers, and tempted by mysterious forest-dwelling beauties.
The Neon Garden invites you to go deep into the evolutionary revolutionary wild earth. Put down roots and unfurl your staymen. Bloom into the bioluminescence at the end of the garden path. Ripen into the discovery of the sparkling creatures of Lesbos and Gaydens. Follow the fireflies to the heart of the labyrinth and don't be afraid to chase that gayglo radiance beyond the garden wall.
Our wild arcadia welcomes luminous passionflowers, psychedelic moth-beings, luscious queer garden sprites and that iridescent glow that only you can capture (or will it capture you?).
Come to our hothouse of phosphorescent delectation and dare to neon-dream your way into a nubile new year.
DJs

Adam Cox, Amanda Louise, Amozon, Ben Drayton, Beth Yen, Chip & David DC, Du Jour, Joal Bowman, Juan Velasco, Kirby, Kylie Rose, Les Smith, Matt Vaughan, Murray Hood, Pob, Ruby, Simona Castricum, Somerville & Wilson, Stephen Allkins, Sullivan
Events

Parade: December 29th, 4pm

NYE Party: December 31st, 8pm-6am

Pool Party: January 1st, 10am-4pm

Recovery Party: January 1st, 4pm- 1:30am

Camping and Volunteering: December 27th - January 3rd

Camping ~ Volunteering ~ Cabaret ~ Cafe ~ Licenced Bar ~ Art Exhibition ~ Music ~ Parade
About Buying Tickets
Tickets available are:
Earlybird NYE (reduced price NYE, available for a short time only)


NYE

Three Party Pass (granting entry to NYE, Pool Party and Recovery Party)
All tickets are available as:

Member (current financial members of Tropical Fruits only, member number required)

Concession (current student, senior, pensioner, low income HCC, emergency services concessions accepted)

Guest (everyone else- general admission)
To renew or become a member, click here.
NOTE: All tickets should bear the name of correct attendee.  Please avoid using the 'copy data from' function when purchasing multiple tickets. To change the details on tickets, here is a step by step guide for attendees to update their information.

Attendees are required to provide proof of membership or concession status when collecting their armbands, or be liable to pay the full price for tickets. Photo ID is required for all armband collections.

All tickets will incur a service fee and credit card fee. 

NO ID = NO ENTRY
TICKET PRICES

* These Single Party tix only available at the door
How to Book Camping: NEW 2017 Camping Set Up [CLOSED]

After unprecedented demand for camping in 2016 we are introducing a new simplified camping booking process. This year all camping must be pre-booked online due to capacity restraints.
To secure your spot simply purchase separate camping tickets using the link provided after you have purchased your party tickets. After completing the purchase of your party tickets, you will be provided with a link to a private event, where you can purchase camping for each person for whom a ticket has been bought.  
There is no longer the need to book on a 'per night' rate, with 5 ticket options now available to choose from based on date of arrival. All tickets include camping for 1 person in either a tent or van from the date of arrival with check out any time before the campsite closes on 3rd January.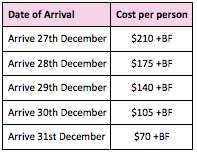 Camping ticket sales will remain open until 31 December or until capacity is reached. We strongly advise booking early to avoid missing out.
For more info about camping click here.
This is a GLBTI+ 18+ Event. NO ID = NO ENTRY.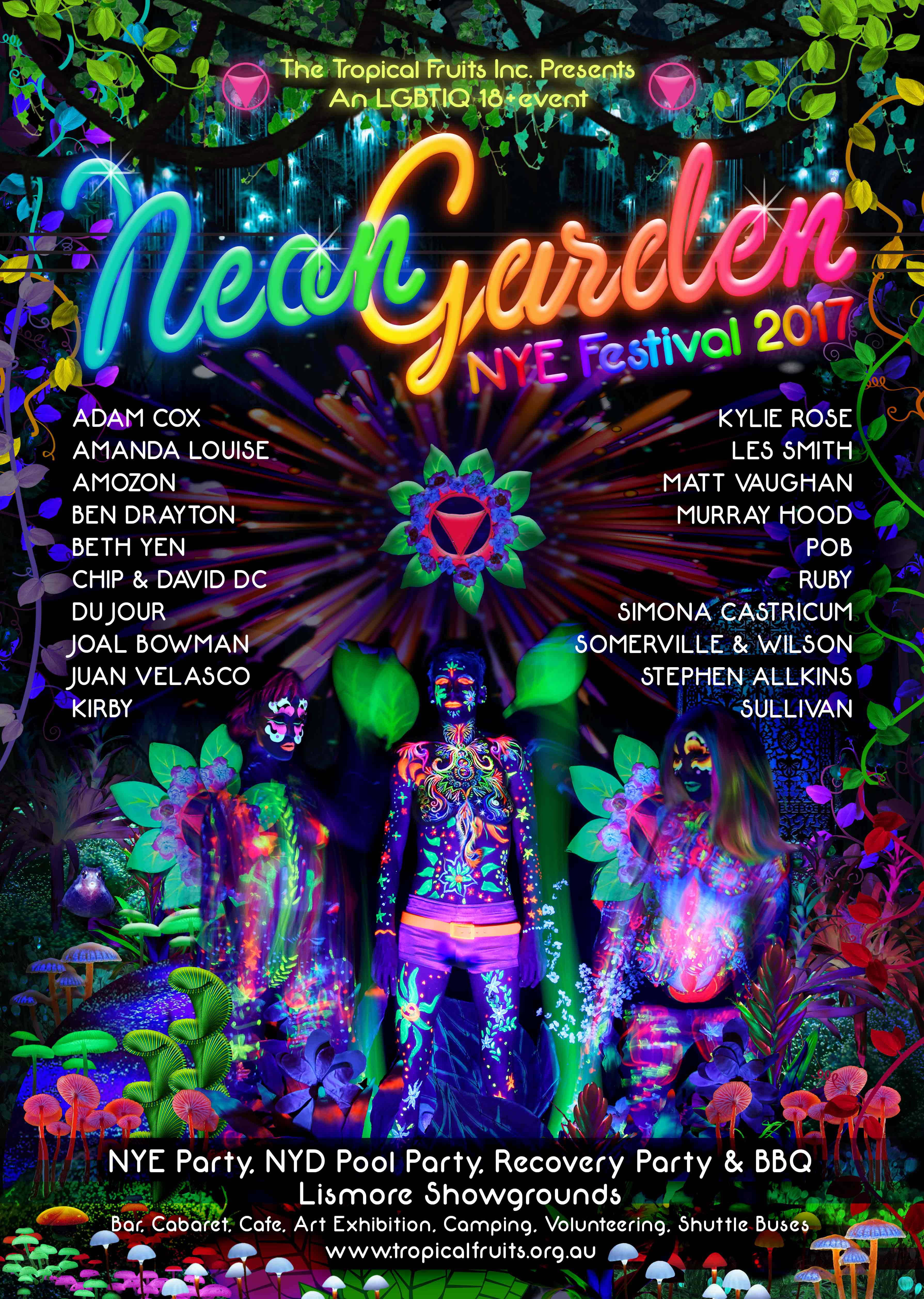 music
discos
nightlife
festivals
courses
party
collecting
volunteerism
Nearby hotels and apartments
Lismore Showgrounds
Alexandra Parade, North Lismore, 2480, NSW, Australia
Alexandra Parade, North Lismore, 2480, NSW, Australia