VERSION 9 UPDATE Workshop // Sydney [TE057]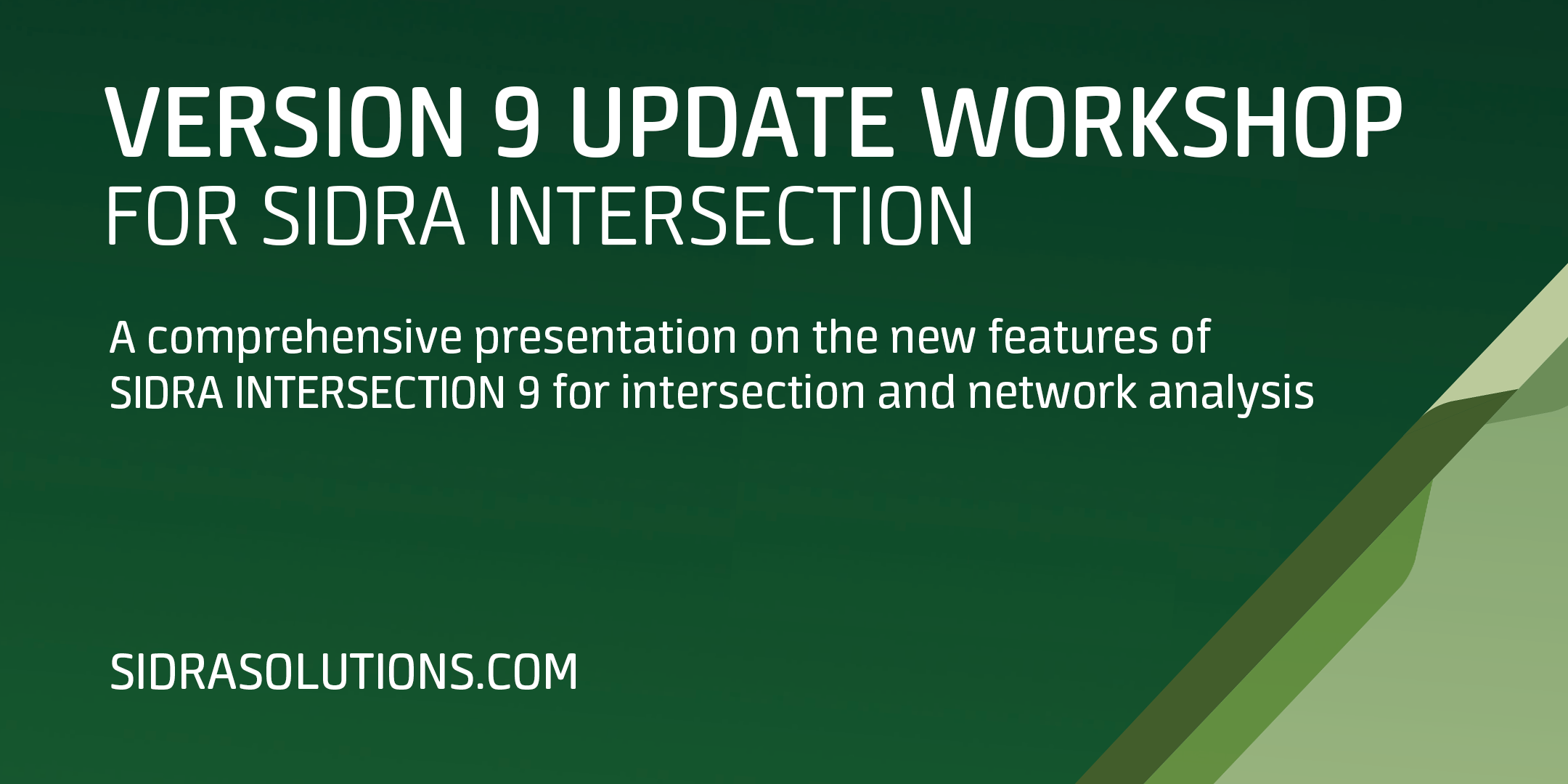 Image from eventbrite.com
---
This one-day workshop will provide a comprehensive presentation on the new features of SIDRA INTERSECTION 9 for intersection and network analysis to enable the use of this major new version effectively.
Workshop Information
The SIDRA INTERSECTION VERSION 9 UPDATE Workshop is offered for users with a knowledge of earlier versions of the SIDRA INTERSECTION software. The objective of this one-day workshop is to provide a comprehensive presentation on the new features of SIDRA INTERSECTION 9 for intersection and network analysis to enable the use of this major new version effectively. The workshop is set with examples based on the SIDRA Standard Left-Hand software setup with metric units.
VERSION 9 UPDATE WORKSHOP Contents.pdf
Other Details
Class size varies approximately between 12 and 30 delegates.
Morning tea, lunch and afternoon tea will be provided.
Dress code is casual.
Please Bring With You
Please bring a USB key with you to copy the SIDRA INTERSECTION project files created during the workshop.
Ticket Fee

The ticket fee displayed on Eventbrite is per person. A discounted fee applies to Early Bird tickets. These are available only for a limited time and limited allocation. All prices are in Australian Dollars and inclusive of GST.

The ticket fee covers costs of providing hands-on computer use, workshop notes, morning and afternoon teas as well as lunch.
Registration
Information about the registration process and ticket purchase:
The quickest way to secure your seat is to register and pay online via the Eventbrite website.

You can also pay for and register other delegates during the shopping cart process.

Tickets are available right up until the date listed on Eventbrite or until they run out.

Upon completion of the process, the registration details will be sent to the email address you provided.

If you register other delegates, they will be emailed with their ticket and event details.
Registration required for each workshop
Separate registration is required for different SIDRA workshops. For instance, if you would like to attend both the VERSION 9 UPDATE and FUNDAMENTALS workshops, you are required to register for these two workshops separately via Eventbrite.
A full listing of all available workshops is available on our website: sidrasolutions.com/training
Cancellation Policy
Tickets fees are non-refundable. Another delegate may be substituted for the same workshop free of charge. Transfer between workshops is not allowed unless another delegate is substituted and there is a position available in the required workshop.
Please contact us about delegate substitution in advance using the details given below for Enquiries.
Prerequisites
A fairly good level of knowledge of the use of SIDRA INTERSECTION

.

A good level of familiarity with traffic engineering methods and terminology and knowledge of intersection modelling and evaluation concepts.
A good understanding of traffic operations at intersections is essential for the effective use of traffic models for intersection and network design and evaluation purposes. Attending the MODEL FUNDAMENTALS Workshop is recommended for developing an improved understanding of the use of SIDRA INTERSECTION for traffic modelling.
Workshop Objectives
Upon completion of the VERSION 9 UPDATE Workshop, participants will:
gain a good knowledge of the new features of SIDRA INTERSECTION Version 9 including the user interface, input, output and modelling changes that have been introduced in this version;

learn about how the model results will be affected by changes in SIDRA INTERSECTION Version 9;

be able to adapt to the major changes introduced in SIDRA INTERSECTION Version 9 and be able to use the new software package effectively.
Content
This one-day VERSION 9 UPDATE Workshop provides an interactive learning opportunity with hands-on computer experience, working together with instructors through many examples.
The SIDRA INTERSECTION workshops are not just about intersection and network analysis, but aim to improve general understanding of operational analysis of all traffic facilities. It is important to learn about model calibration as an important element of realistic modelling of traffic facilities.
The VERSION 9 UPDATE Workshop will cover modelling of all types of intersection and network modelling in teaching the new features of SIDRA INTERSECTION Version 9 to existing users. These include the following.
Traffic Model Features
New Network Templates for modelling staged crossings at 3-way and 4-way intersections, paired intersections, interchanges and innovative intersection and interchange designs.

Pedestrian Crossing (Zebra/Unsignalised) on Slip lanes.
Staged Pedestrian Crossings with selectable elements (approach or exit side crossing can be specified as not existing).
Merge Model for exit short lanes with Priority Merge and Zipper Merge options.
Model for U-turn before intersection.
Continuous movement (uninterrupted flow) model with detailed performance estimates.
Short Lane Model calibration options.
Option to exclude lane blockage effects on capacity reduction in Network analysis.
Option to exclude Saturation Flow estimation for user-specified saturation flows.
Timing Analysis report enhancements with detailed information on Pedestrian Actuation and Phase Actuation analyses.
Multiple Phase Sequence analysis in Site timing calculations.
Clearance 1 parameter for Pedestrian Timing calculations.
User Interface Features
Map Extract tool to create new Sites from OpenStreetMap (OSM).
Pedestrian Crossing (Zebra/Unsignalised) as a new Site type for midblock locations.

New graphical Interactive Ofsets function using Time-Distance displays for the user to modify Offsets towards achieving two-way signal progressions.

Time-Distance displays with two-way signal coordination.

Enhanced Signal Offset calculations with continuous movements.

Layout

picture improvements including variable size and elliptical shapes for roundabouts,

Strip Island connections and layer order for vertical position of roads.
User interface changes:

New tab and ribbon structure (Network and Route tabs combined; separate output tabs for Sites, Networks, Routes and Network Sites).
New Project Pane Structure (Folders to group Sites, Networks and Routes; Routes belonging to each Network appearing under the Network in a tree structure; SITES & CCGs IN NETWORK

/ ON ROUTE

sections indicating CCGs and their Sites in a tree structure; colour strips to indicate the Diagnostics status).

New functions Export Site, Export Network, Delete Network with Sites, Import Phase Sequence.

PDF Output

function to save the output reports and displays in a PDF report.

New and significantly enhanced Site, Network and Route output reports and displays including Queue Analysis, Pedestrian Analysis, Timing Analysis, Multiple Sequence Analysis, Fuel Emissions & Cost.

Approach Displays, Lane Displays, Movement Displays, Lane Flows, Movement Flows displays available for Sites, Networks and Routes consistently.

CCG reports and displays showing all CCG Sites in the same report or display.

New Category Setup facility under the Tools tab.

Manage tab

with new Customise Output, Displays, Site Output, Interface and Layout dialogs. Customise Output

allow

s

the user to control output sections (choose to include or not) and define Page Breaks in output reports and displays.

Various other new features.
Target Audience
The target audience for the SIDRA INTERSECTION Version 9 UPDATE Workshop includes Traffic Engineers and Planners involved in the analysis of intersections and networks for design, operations, planning and traffic impact assessment purposes who are currently using a recent version of SIDRA INTERSECTION.
SIDRA INTERSECTION training workshops provide an excellent opportunity for networking by meeting your colleagues who are working in areas related to your work.
Presenters
MARK BESLEY
Mark Besley is a scientist and software specialist who has worked in the traffic management area since 1980s. He has been making a significant contribution to the development of the SIDRA INTERSECTION software in collaboration with Dr Rahmi Akçelik during the last 30+ years. He has trained several thousand professionals in over 300 workshops, courses and seminars.
Mark has been involved in many aspects of research on traffic operations including traffic network models, incident detection, fuel consumption estimation, traffic data collection and analysis.
DR IAN ESPADA
Dr Ian Espada joined Akcelik and Associates in November 2019 as a Senior Traffic Modeller / Analyst. Ian has more than 18 years of work experience in the role of researcher, transport/traffic planner, transport survey specialist, transport demand modeler, and transport economist. He had an 11-year career at the Australian Road Research Board where he was the team leader of the Network Operations Team under the Future Transport Systems Working Group. Ian worked for 7 years as a transport planner / modeller for ALMEC Corporation, Japan. He was also a sessional lecturer on transport demand modelling at Swinburne University for 10 years.
Ian has a Ph.D. degree in transportation engineering and planning from the University of Tokyo and an M.Eng. degree in transportation planning and traffic engineering from the Asian Institute of Technology, Thailand. Ian was the Australian representative to the World Road Association technical committee on road network operations from 2016 to 2019.
Enquiries
For all enquiries:
Email Us
Or call our office during working hours
Monday to Friday
9.00 am to 5.00 pm
Australian Eastern Time (AET)
+61 3 9830 7123

General Information about SIDRA Training Workshops
The SIDRA INTERSECTION software is an advanced micro-analytical traffic evaluation tool that employs lane-by-lane and vehicle path models. It is for use as an aid for design and evaluation of individual intersections and networks of intersections. It can be used to analyse signalised intersections, roundabouts (unsignalised, with metering signals, and fully-signalised), two-way stop sign and give-way / yield sign control, all-way stop sign control, signalised and unsignalised pedestrian crossings, single point interchanges (signalised), freeway diamond interchanges (signalised, roundabout, sign control), diverging diamond interchanges and other alternative intersections and interchanges.
SIDRA INTERSECTION training workshops will help you enjoy the power of analysis to find solutions to intersection and network problems.
During 2000-2019, Akcelik and Associates and its accredited representatives ran 370 training workshops across Australia, New Zealand, USA, Canada, Malaysia, Brazil and many countries in Europe and Middle East with about 7,000 delegates attending. In evaluation of these training workshops, the trainees rated various aspects of the workshops and the SIDRA INTERSECTION software very highly.
A full listing of all available workshops is available on our website: sidrasolutions.com/training
Read the About Workshops page for more general information.
Subscribe to SIDRA NEWS
Receive email alerts about products, training and events. We promise to send you only important information and special offers!
1208 Views - 04/04/2020 Last update
Saxons Training Facilities
Level 10, 10 Barrack Street, Sydney, 2000, NSW, AU
---
Are you an event organizer?
Create events for free. They will be immediately recommended to interested users.
Create event
Nearby hotels and apartments
Level 10, 10 Barrack Street, Sydney, 2000, NSW, AU
---
---
Saxons Training Facilities
Level 10, 10 Barrack Street, Sydney, 2000, NSW, AU
Event from
eventbrite.com
---
---
Are you an event organizer?
Create events for free. They will be immediately recommended to interested users.
Create event
Sydney

›