Wellness QiGong Essentials Workshop (2-Days, Sat-Sun)
Image from eventbrite.sg
From Sat 7 December 2019 to Sun 8 December 2019
From Saturday 7 December 2019 to Sunday 8 December 2019
---
---
Health is Wealth. Everyone wants to be healthy thus they engage in different forms of sports or exercises. Qigong practice is unique as it is suitable for any health condition, can be practiced anywhere and without any equipment. Qigong can be traced back more than 6000 years, and its health benefits are being increasingly recognized by modern health professionals today.
Learn how to practise QiGong properly and effectively, for your Health and Wellness. Come attend this intensive practical weekend workshop. Take control of your health !
THE WELLNESS QIGONG ESSENTIALS WORKSHOP (2-Days, Sat-Sun)
This course is designed for everyone. The two-day training covers fundamentals of Qigong and the Wellness Qigong set of exercises. The objective is to train the participants on the various important aspects of Qigong e.g. Dan Tian, Meridians, Inner Orbit, Five Elements, Concept of Yin and Yang, energy breathing and so on.
The set of Wellness Qigong exercises taught in Qigong Essentials course covers both dynamic movements and stillness exercises; incorporating Breathing (Tu Na) and Movement (Dao Yin) techniques. It will help practitioners to loosen and stretch the body and to activate, enhance, circulate and store Qi.
COURSE OUTLINE
Course durations: Saturday and Sunday, 9.30am to 5.00pm
Topics covered are:
Meridians and Major Acupuncture points

Five Elements and Internal Organs

Concept of Yin and Yang

Qigong Breathing methods

The Three Dan Tiens

The power of Yi

Wellness Qigong Dynamics movement exercises

Wellness Qigong Lying Down exercises

Wellness Qigong meditation
The participants will learn the following:
Loosen the body and meridians

Activating Qi

Enhancing Qi

Circulating Qi

Storing Qi
All trainings are conducted in English and seats for each workshop are limited.
To help you take Decisive Action for your Own Health, we are giving Early Bird Incentives of 15% off the normal course fee, for all registrations with full payment made at least 30 days before each workshop.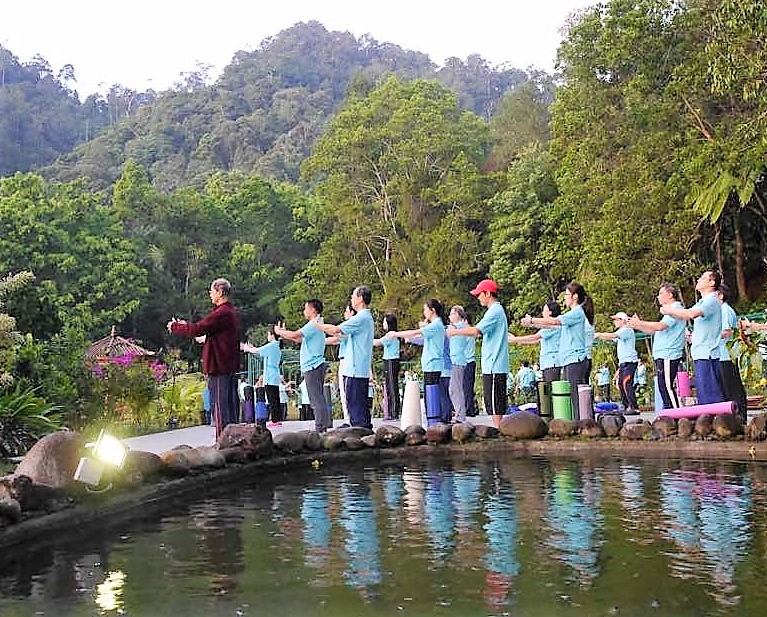 Wellness QiGong Practice at Genting Highlands

Testimonials for this course:
I benefited a lot from Wellness Medical Qigong as it has helped to alleviate some of my health problems which I have suffered for more than a year, my physical problems are as follows:
(1) I have irritable bowel movements (IBS); it has been cleared after just one week of practicing Wellness Qigong.
(2) Indigestion problem, which always produced a lot of gas after food.
- The problem no longer exists after the training.
Ooi, (M), Age 30+
I have heard about Qigong but have had doubts about it. Now that I have experienced Qigong, I can safely add this to my regular exercise regime for my well-being. I can also advise my family members and friends on general health maintenance.
Finally, I can introduce others who have health problems to Master Tan. I can now practice Qigong in the park on my own.
Lim ML, (M), Age 50+
The course is well structured from concept to theory and practical. The exercises are simple and effective. The final exercises are well planned of and give participants the feel of Qi and how to control Qi.
Chang KL, (M), Age-40+
I have a better understanding of what our body function and physical well-being. With proper training and practice, I have no doubt we can all achieve physical wellness. Sifu Tan is a teacher who can deliver Qigong training effectively to all sorts people.
Ong KL, (M), Age-40+
153 Views - 09/12/2019 Last update
courses
workshop
sports
yoga
food
education
---
Are you an event organizer?
Create events for free. They will be immediately recommended to interested users.
Create event
---
---
Event from
eventbrite.sg
---
---
Are you an event organizer?
Create events for free. They will be immediately recommended to interested users.
Create event